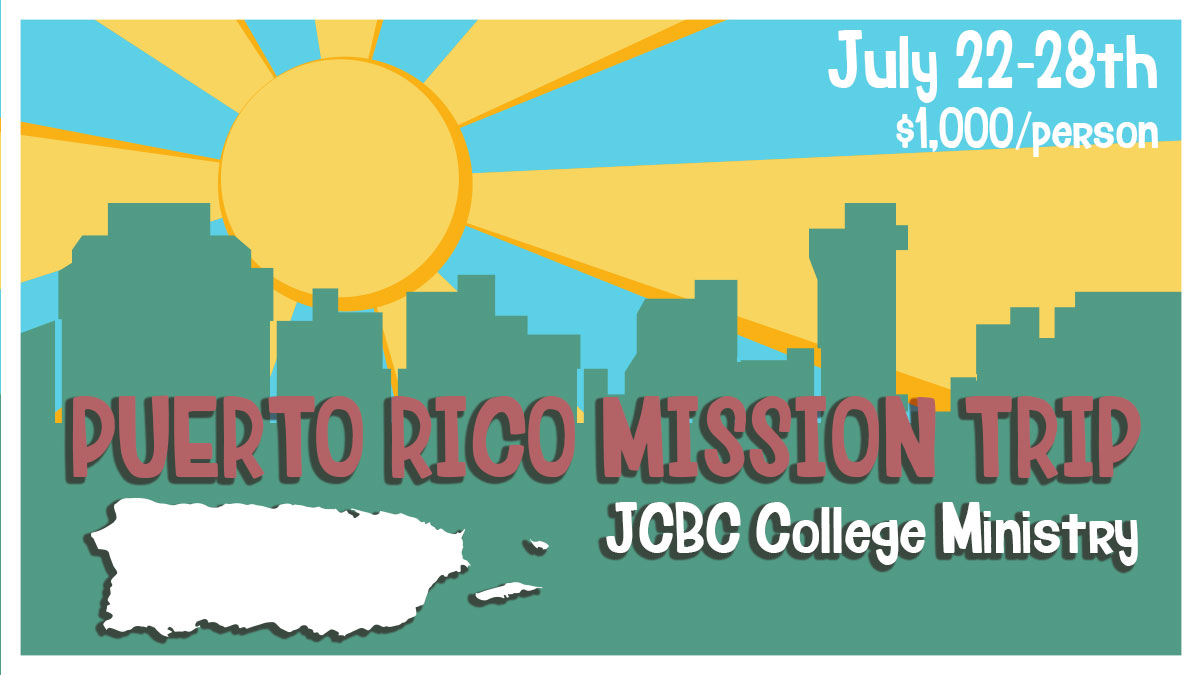 Puerto Rico Mission Trip
JCBC College Ministry
July 22-28th
Cost $1,000
This summer our annual college mission trip will be heading to Puerto Rico to help be part of the rebuilding effort. As you know, the hurricane named Maria ravaged Puerto Rico on September 20, 2017. With sustained winds of 155+ miles per hour the nation's power grid literally folded up and blew away leaving the entire island in the dark. Darkness was not the only problem, without power the island schools, hospitals, banks, gas stations, stores and emergency services also closed. This led to people going days without food, access to funds and medicine, which led to large-scale hysteria. Suicides reached historic numbers and sadly this was only the beginning. By the turn of the year, there were 60,000 houses without roofs and only half the population had regained power. Today, nine months after the storm, 25% of the country remains without power, schools are operating part-time and roof tarps paint neighborhoods F.E.M.A. blue. Puerto Rico remains a mess.This is why JCBC as a church has responded to the call and fixed it's mission focus for the foreseeable future to helping our brothers and sisters in Puerto Rico.
Our mission trip will be from July 22-28 as we go to Old San Juan to partner with Inglesia Bautista Rio Piedras, the oldest baptist church in the island. We will be staying in a local mission house and helping with their summer VBS to hep rebuild a since of community and family in a devastated population. The trip will cost $1,000 including air fair, and includes all in country cost. Applicants for this trip must have completed a year of college or have graduated High School in 2017.
Register Now
Medical Waiver Form