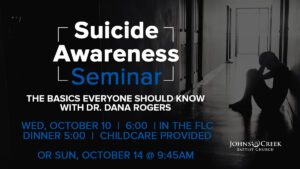 Suicide Awareness Seminar The Basics Everyone Should Know With Dr. Dana Rogers October 10 in the FLC 5:00 Dinner 6:00 Seminar Children's Options: 6:00 weePraise/iPraise or childcare (birth - 5th grade) Or Sunday, October 14 @ 9:45am Startling Fact: Someone in the U.S. attempts suicide every 38 seconds and more than one million worldwide die each year from suicide. The Suicide Awareness Seminar will offer information on misconception, prevention, communication strategies, treatment options, and coping skills. Contact formations@jcbc.org for more information.
Find out more »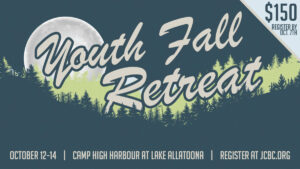 Youth Fall Retreat October 12-14 Camp High Harbour at Lake Allatoona $150 per student Register online! Deadline to Register is October 7th! Youth Fall Retreat is a youth group wide retreat. It is open to all students in grades 6-12, and is the highlight of Fall Semester. We will spend three days and two nights away from all the mess, stress, and homework to reconnect with each other and God. While this is a worshipful and spiritual retreat, it is also an action packed, fun filled weekend of games, activities, and maybe, just maybe, a little bit of messy!
Find out more »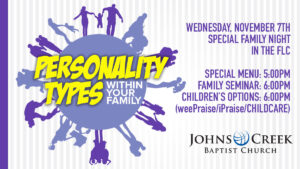 Join us November 7th for a special Wednesday Family Night located in the FLC 5:00 Special Menu 6:00 Personality Types Within Your Family Children's Options: weePraise/iPraise or Childcare@ 6:00 Family dynamics can be difficult to navigate no matter the age or life stage, but they don't have to be impossible. Join us on October 3rd to discuss how learning about the personality of your family can help you see through a lens of compassion and grace.
Find out more »