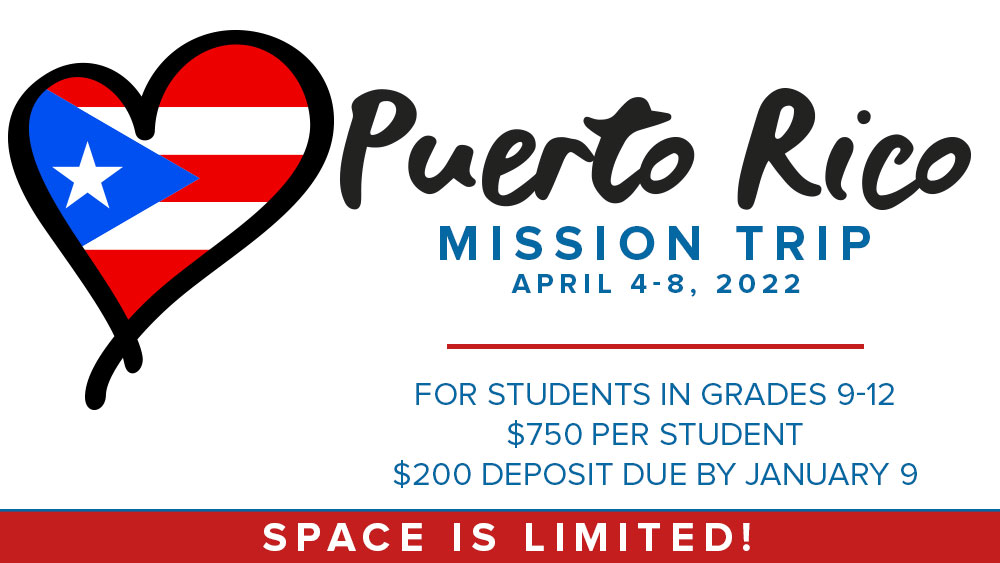 Puerto Rico Mission Trip
2022 Puerto Rico Mission Trip
April 4-8, 2022
For students in grades 9-12
Cost is $750 per student*
Parent information meeting will be on December 5
$200 deposit to register is due by January 9
Space is limited!
*includes airfare, ground transportation, lodging, meals, shirt, and mission supplies
For years our annual Youth Mission Trip was central to our Youth Ministry. While the pandemic put this on hold for a while, we are excited to restart this life-changing tradition with a new group of students! This year we will join our churchwide effort to serve our partners in Puerto Rico by cleaning up at a local school, working one of their farms and community gardens, and building face-to-face relationships within the community. This is a wonderful trip for all High School students looking to expand their faith and be the hands and feet of Christ in the world!
Important Dates to Remember:
December 5, 2021:
Parent Info Meeting at 9:00am in the Middle School Suite
January 9, 2022:
Non-Refundable $200 deposit due to reserve a spot on the trip
February 6, 2022:
The balance for the airline ticket – $400 is due today (to bring balance to $600)
March 6, 2022:
Team Meeting (9:00am) and Passport/ID Information DUE today
March 15, 2022
Team Meeting (9:00am) remaining $150 balance due (to bring balance to $750) today
(NO refunds after this date)
March 20, 2019:
Team Meeting (9:00am)
April 4, 2019:
Leave for Puerto Rico!
(meet at the airport)
Note: You are required to be at least 2 of the 3 above meetings, we would like for you to attend all the meetings.