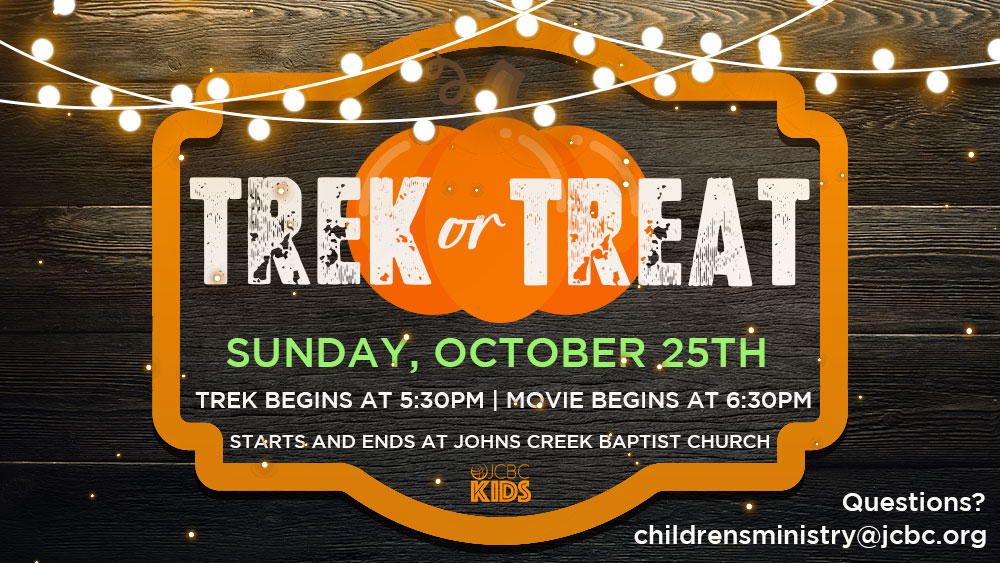 Trek or Treat
Trek or Treat
Sunday, October 25th
Trek begins at 5:30pm. Movie begins at 6:30pm
Starts and ends at Johns Creek Baptist Church
Questions: childrensministry@jcbc.org
In the age of COVID-19, we want to offer a safe, socially distanced event for your family! Trek or Treat is a multi-event evening of safe, socially distanced fun.
On the night of the event, your family will start at the church and navigate a Trekker's Map to make it from home to home where Outposts are set up for children to collect candy. The Outpost is a volunteer's mailbox that is decorated and numbered. Outposts will place pre-packaged bags of candy beside their mailboxes for children to hop out and collect as they drive by!
The map ends at the church where we will host a family movie night! Disney's Monsters Inc. will be played on a big screen in the church parking lot. Families will park in marked spaces that are spaced 6 feet apart. You can bring chairs to sit in or sit in the back of your cars like a drive-in! We will provide "concessions" like individually packaged popcorn, cotton candy, etc. Families are welcome to chat with each other, but masks are required if you are closer than 6 feet apart.
Your kids (and you!) are welcome to wear non-scary costumes as you Trek or Treat and watch the movie!
Please register for this free event so we know how many families to prepare for!
If you would like to volunteer to help with the movie night, sign up below!
We can't wait to have some Fall Fun with you!