So, Monday is a pretty big day.
Monday morning, January 29th, I will defend my doctoral dissertation.
It's been quite a ride, these past 3 ½ years.
The journey has been challenging, inspiring, frustrating and fulfilling all at once.
The course work, seminars, papers, research, project proposals, interviews and thesis writing (along with this little day job I have) have all served to confirm my belief in, and deepen my reliance upon, the all-sufficient and sustaining Grace of a God who is more than enough.
"More-than-enough" is not a bad way to think of God, you know.
According to Galatians 3:20, "…we have found this God to be able to accomplish abundantly far more than all we can ask or imagine" due to the great love and power that is at work within us.
This great love and power has expressed itself in the most beautiful ways over these past years. I find myself deeply grateful for the way in which you, as a congregation, have supported me in pursuit of this terminal degree. What has been a personal, life-long goal for me has been amplified (or as 2 Timothy 1:6 says, "fanned into flame") by your encouragement.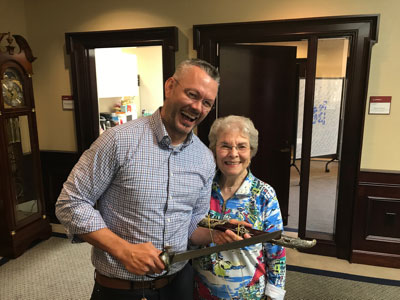 Your regular inquiries, hallway conversations, and notes of support have meant the world. Perhaps one of the most delightful moments came when longtime JCBC member, Mallie Gilliam learned that I would soon be "defending" my dissertation. So, to help "fit me for battle," she purchased and gifted me a Japanese sword to take into my defense.
Not kidding. An honest-to-goodness sword.
Hilarious.
(One of our pastors suggested I wear it into the oral defense, strapped on the outside of my suit, and never acknowledge or address that it's there. Just wear it. Like a boss.)
Ok. Think I will.
One of my greatest objectives as I began this journey, was that the pursuit of this degree would not interfere with (or diminish in any way) the effectiveness of my ministry as senior pastor of JCBC. One person who ensured that objective was met from beginning to end, was my Executive Assistant, Rhonda Byrd. Her professional attentiveness to every detail of our ministry enabled me to devote adequate time to my research, with confidence. Without her partnership in ministry, it simply could not have happened.
It also could not have happened without an amazing ministry staff.  More than any other group, the JCBC ministry staff knows intimately the kind of time and energy that it has taken to complete this journey. In many ways, they enabled it. Were it not for the high level of capacity and deep sense of call each one of them has for our shared ministry, I could not have accomplished this task. They understood and accommodated, and I could not be more grateful.
The journey is by no means complete.
If Monday's oral defense goes well, I will then make final adjustments/edits, and then begin the process of submitting the work for publication. Then, we wait for May when graduation and a hooding ceremony signify the final culmination of this amazing journey.
(Of course, if things go badly Monday, I suppose another blog will be in order.)
Have I told you lately how much I love being your pastor?
Well, I do.
Shaun King
Senior Pastor
Johns Creek Baptist Church