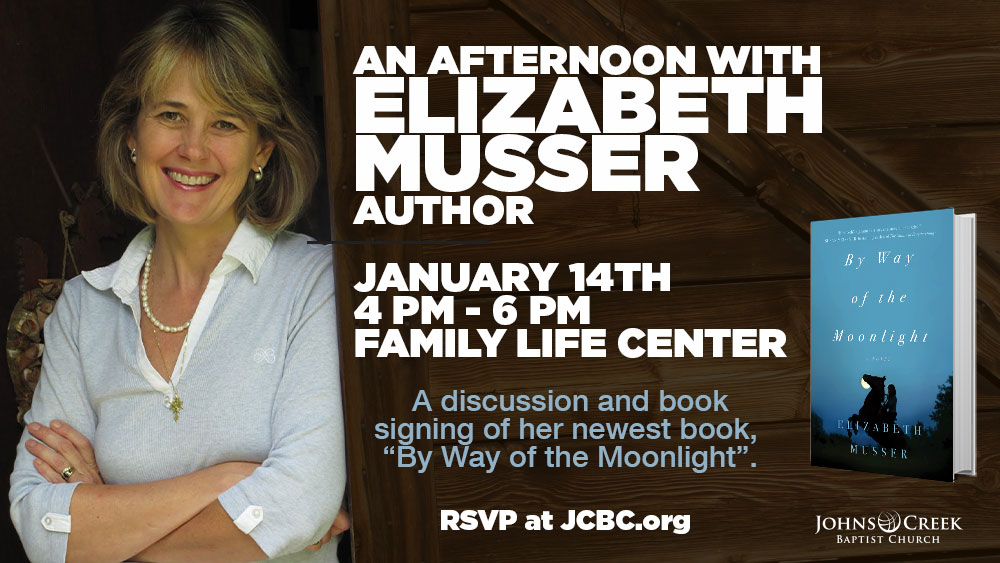 Date
Jan 14 2023
Expired!
Time
4:00 pm - 6:00 pm
An Afternoon with Author, Elizabeth Musser
An Afternoon with Elizabeth Musser
Saturday, January 14th
4:00 – 6:00pm
JCBC Family Life Center
RSVP Required! – See Below
Many of us love a good book and like to be with others who share our love of reading. That's why we are so pleased to welcome Elizabeth Musser to Johns Creek Baptist Church on Saturday January 14th at 4:00 PM. Elizabeth is the highly regarded author of such popular works as "The Swan House" and "The Promised Land" and will be at JCBC to talk about her newest book, "By Way of the Moonlight". This clever double-story unveils how two courageous young women, tied together by blood and shared passion, will risk everything to save what they love most. Elizabeth will share some of her inspiration for the book and will show some of the Atlanta area sites that make their way into the setting. She will also share selected readings.
Copies of "By Way of the Moonlight" will be available for purchase and can be signed by the author. Already have your copy of it or another book by Elizabeth Musser? She'll sign those too.
This wonderful community event is on Saturday January 14th and will begin promptly at 4:00 PM. Everyone is welcome and there is no charge for admission, BUT – an RSVP is required.
So, grab your Book Club members and book reading friends and make an evening of it.
Read more about Elizabeth Musser and By Way of the Moonlight Here.
Johns Creek Baptist Church
6910 McGinnis Ferry Road
Alpharetta GA 30005