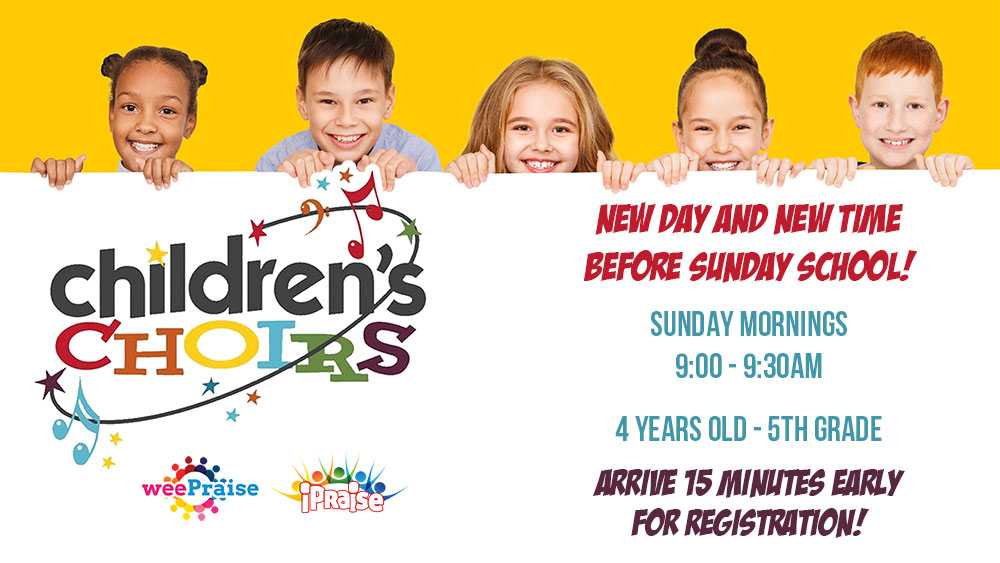 Date
Dec 22 2019
Expired!
Children's Choirs Resume
Children's Choirs
New Day – New Time – New Opportunity!
Sunday Mornings @ 9:00 – 9:30am
4 years old thru 5th Grade
Before Sunday School!
(Please arrive 15 minutes early for registration)
Join us for Children's Choirs at Johns Creek Baptist Church!
We have choirs for ages 4 through 5th grade, which meet on Sundays, at 9:00 A.M., then transitioning to Sunday School.
We begin on September 19.  Enter at the Children's Entrance a few minutes before 9:00, and follow the signs.
Parents, enjoy coffee, conversation, and community down the hall while your children rehearse.
iPraise is for Grades 1-5, meeting in the Fellowship Hall, directed by Beth Irwin and accompanied by Susan Ballance.
weePraise is for ages 4 and kindergartners, meeting in the Music Room, directed by Bonnie Dube and Ginny Carman.
iPraise will sing with the Sanctuary Choir and Orchestra, with special guest Babbi Mason, on December 11 and 12, "In All of His Glory".