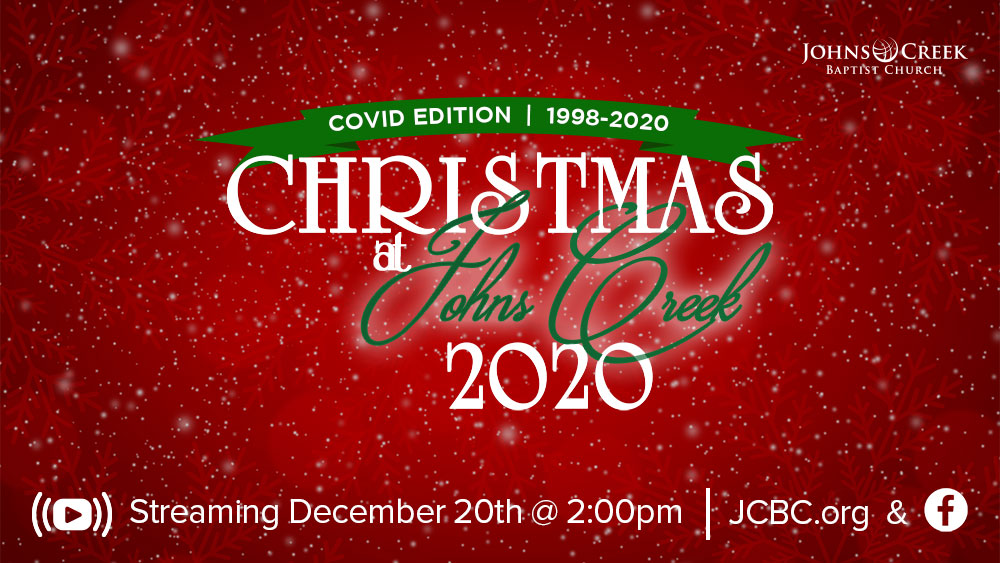 Date
Dec 20 2020
Expired!
Time
2:00 pm - 3:00 pm
Christmas at Johns Creek
Christmas at Johns Creek 2020
Sunday, December 20th
Streaming Live @ 2pm on Facebook Live & JCBC.org
When it became painfully obvious that Christmas at Johns Creek could not happen this year, we decided to do something different. On December 20, you have the opportunity to see Livestream "Christmas at Johns Creek 2020, COVID Edition." You will enjoy scenes from Christmas at Johns Creek from 1998 to 2019. See where it all started in the chapel in 1998, expanding to the FLC in 2000 and on to the new sanctuary in 2007. My how God blessed! You'll see  videos starting in 2007 and still pictures from the years with no videos.  Newly added for the 2020 "COVID Edition" are special songs provided by Adam Courtney and the contemporary worship band. All of this is woven together by guest hosts Jared and Lindsay Bradshaw. The Bradshaws come to us from Broadway, having appeared in shows like "Wicked" and "Charlie and the Chocolate Factory"….until COVID shut it down. 
CJC 2020 COVID Edition will be available Sunday, December 20, Live-streamed at 2:00pm, and then through a special link to make it easy to watch at your convenience. This provides a great opportunity to host a "Watch Party" with your family and close friends. Since we're unable to celebrate in our usual packed crowds this year, let's celebrate together in spirit. Mark your calendars for December 20!