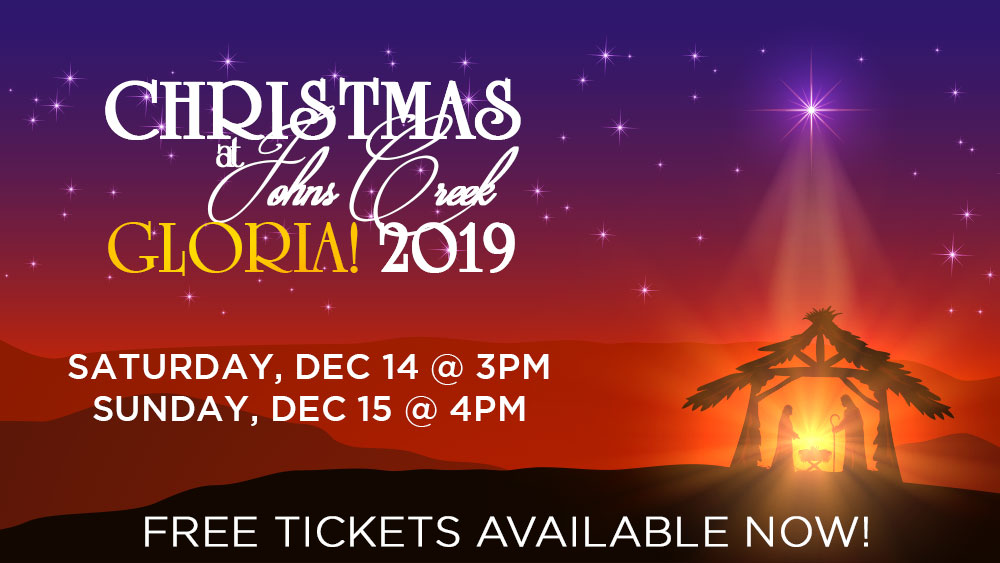 Date
Dec 14 2019
- Dec 15 2019
Time
3:00 pm - 5:00 pm
Christmas at Johns Creek
Christmas at Johns Creek 2019
Free tickets available now!
** Please note:
All Sunday Tickets have been given out.
If you still want to come to the Sunday Performance –
you will be able to enter after ticket holders have entered.
Thanks so much.
You can pick up your free tickets at Johns Creek Baptist Church during the following hours:
8:00am – 4:00pm Monday thru Friday
10:30am – 12:30pm Sunday
We are excited for this year's program Christmas at Johns Creek "Gloria", and your interest in attending.
Please note – we are unable to reserve tickets this year for pick-up or will call. We will be glad to send you tickets if you will send us a self-address stamped envelope (instructions below).
Please email Leigh Anne Shields lshields@jcbc.org if you have a large group attending from your organization, or if you have questions.
Sending a Self-addressed Envelope:
Indicate which day you will be attending (Saturday, Dec 14th @ 3pm or Sunday, Dec 15 @ 4pm)
How many tickets you want.
Envelope must be stamped
Please send to:
Johns Creek Baptist Church
Attn: Leigh Anne Shields
6910 McGinnis Ferry Road
Alpharetta, GA  30005
Envelopes must be received by Dec 9th.