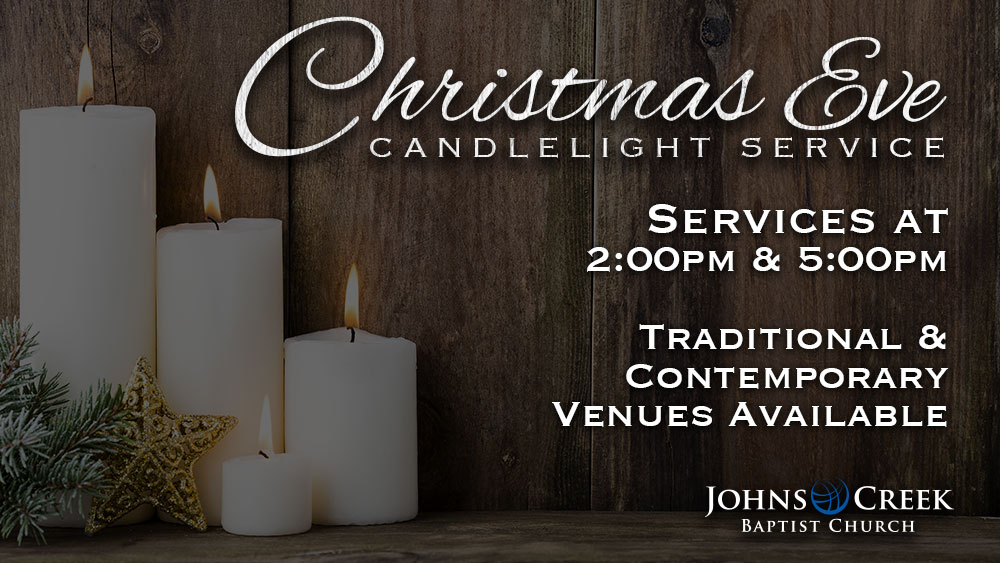 Date
Dec 24 2020
Expired!
Time
2:00 pm - 6:00 pm
Christmas Eve Service
Due to a great response for our Christmas Eve Candlelight Service, we are now at capacity for all of our in-house/in-person services.
If you did not register, we encourage you to gather your family, light candles and experience our Christmas Eve Candlelight Service via live-stream at 2pm or watch on demand anytime after 3pm on our website at JCBC.org. We will be releasing both the traditional and contemporary services for you to view. Wishing you and your family a very Merry Christmas!
Christmas Eve Candlelight Worship Service
Thursday, December 24
2:00 p.m. and 5:00 p.m – Both Venues
Traditional Service – Sanctuary
Contemporary Service – Family Life Center
There will be two opportunities for you to join us for our annual Christmas Eve Candlelight Worship service. This year, with COVID-19, we will be following the CDC guidelines. So, you must register to attend the service of your choice, wear a face mask, and we will be social distancing. The services will be held in both of our venues, a Traditional style of worship will be in our Sanctuary, and a Contemporary style of worship will be in our Family Life Center both will be held at 2:00 p.m. and at 5:00 p.m. The worship services are identical and will include sharing of The Lord's Supper and our candle lighting ceremony. Please join us in this beautiful and sacred time of celebrating Christ during this season.