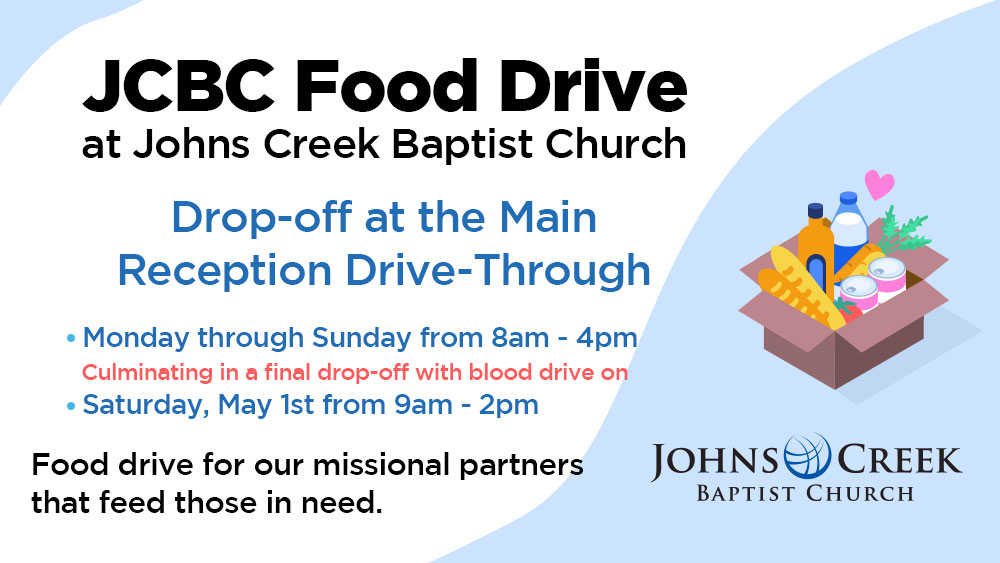 Date
May 01 2021
Expired!
JCBC Food Drive
JCBC Food Drive
at Johns Creek Baptist Church
Throughout the month of April
Drop-off at the Main Reception Drive-Thru
Monday through Sunday, 8am-4pm
Culminating in a Formal Drop-off event
on Saturday, May 1st, 9am-2pm
There will be a cart available Monday through Sunday for food drop-offs. On Saturday, May 1st,  we'll have volunteers available to unload your donations. All you need to do is drive up. You may also make a financial donation below and there will be a blood drive on Saturday, May 1st if you would like to participate. Click here to learn more about the blood drive and to sign up!
Items Needed
Dry goods
Boxed cereals
Canned fruits & Vegetables
Boxed Mac and Cheese
Spaghetti, Ravioli, Chicken/Tuna in a can etc.
Diapers
Baby Food