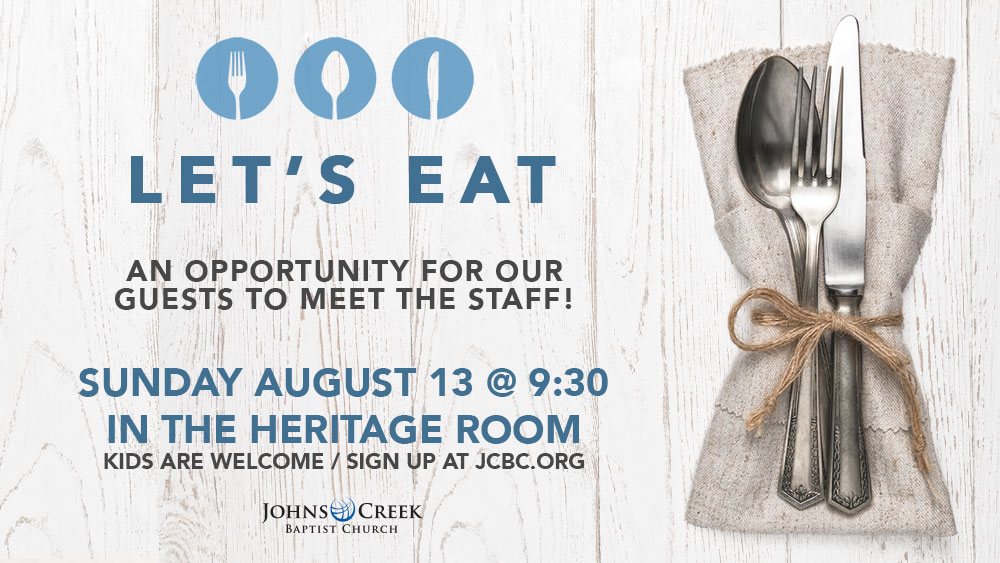 Date
Aug 13 2023
Expired!
Time
9:30 am
"Let's Eat" Newcomer Breakfast
"Let's Eat" Newcomer Breakfast
Sunday, August 13, 2023 @ 9:30am
In the Heritage Room
The Let's Eat Newcomer Breakfast is for all who are new to JCBC or who are interested in this church. You may have already joined or you may have just recently arrived. No matter! All newcomers are welcome (and encouraged) to attend. Hosted by Senior Pastor Shaun King and Connections Pastor David White, this newcomer breakfast is open to all ages, is free, and is a great way for us to begin to get to know each other better and for you to get know a little more about JCBC life. If you prefer, childcare is available. So, make plans to join us and Let's Eat!
Questions? Contact David White at dwhite@jcbc.org  (678-474-4407) or Debbie Iwasaki at diwasaki@jcbc.org (678-474-4405).