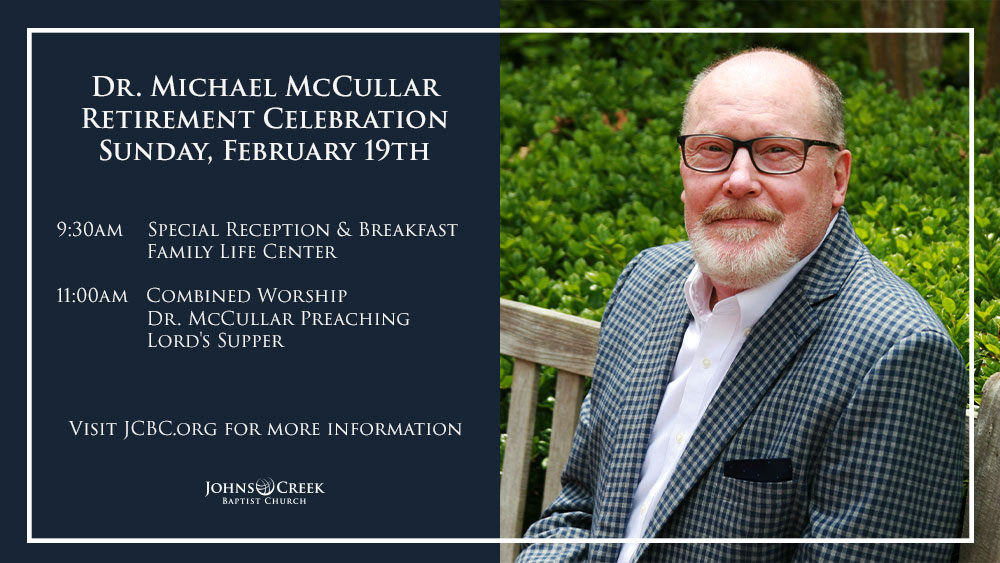 Date
Feb 19 2023
Expired!
Time
9:30 am - 12:00 pm
Michael McCullar Retirement Celebration Sunday
Michael McCullar Retirement Celebration Sunday
Sunday February 19th
9:30am: Special Fellowship/Reception & Breakfast | Family Life Center
11:00am: Combined Worship | Dr. Michael McCullar Preaching | Lord's Supper
This past Fall our JCBC Formations Pastor, Michael McCullar, announced his retirement which would be effective at the end of February, 2023. These past several months have been spent preparing for that important milestone in Michael's life, as well as in the life of our church. Michael has served our congregation faithfully for 29 years–first as Minister of Education, then as Executive Pastor, and ultimately as Formations Pastor. During those many years, our church has been blessed by Michael's love and leadership in a multiplicity of ways—in teaching, writing, one-on-one counseling, missional service, and more! That is why we want to celebrate Michael's ministry and express our deepest gratitude for his service.
On Sunday, February 19th, we will hold a special breakfast fellowship/reception in Michael's honor during the Sunday School hour. It will be open to all ages. There will be no Sunday School that morning, and all will be encouraged to enjoy the breakfast! Then, at 11:00 a.m. we will have one combined worship service wherein Michael will deliver his farewell sermon, and we will celebrate the Lord's Supper together.
One of the most meaningful ways to express our deep gratitude for Michael's service is to contribute to a church-wide love offering in his name. In addition to your ongoing support of the ministries and mission of our church, we are encouraging all JCBC members and friends to consider contributing to this special offering in one of two ways.
You can donate by sending a check to the church. Simply indicate "Formation Pastor Recognition" in the memo line. Please make checks payable to Johns Creek Baptist Church. One consolidated check will be given to Michael. · Or, you can make a one-time contribution by visiting www.jcbc.org/give. There, you will see a drop-down menu, where you will find the option, "Pastoral Retirement Recognition."
It is our hope to bless Michael and Lisa with a generous offering, as an expression of our love and appreciation for 29 years of faithful service. We will be receiving contributions through Sunday, February 19th. In addition.