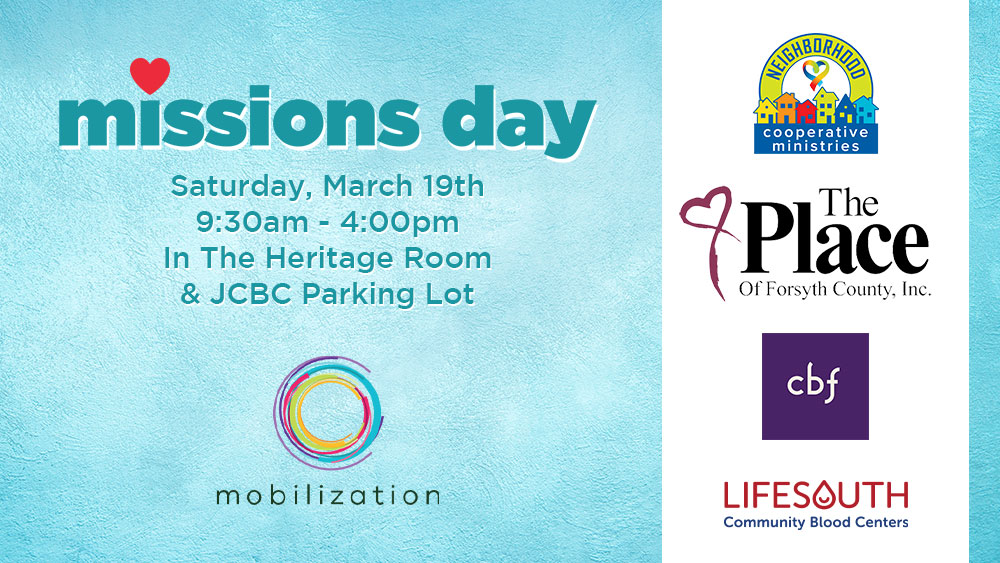 Date
Mar 19 2022
Expired!
Time
9:30 am - 4:00 pm
Missions Day
JCBC Missions Day
Saturday, March 19th
9:30am – 4:00pm
In The Heritage Room & Entrance G Parking Lot
We hope you will join us for Missions Day 2022 on Saturday, March 19th from 9:30am – 4:00pm! We have multiple opportunities for you to provide items for our partners and to spend a couple of hours on our campus sharing God's love and hope for our community and beyond. You can donate the items listed below any time before and on Missions Day! There are activities for all ages.
LifeSouth Blood Drive – Register for a time to donate blood here.
The Place – Gathering and sorting the following items:
shampoo
conditioner
body wash
bar soap
deodorant
toothpaste – single tubes
toothbrush – single
dental floss
shaving cream
small pack razors – 3-6 in a bag
lip balm
Neighborhood Community Ministries – Gathering the following items for Kid Snack Bags and Personal Care Kits!
A kid snack bag could have the following:
2 –  Ramon noodle cups
2 –  Single box/cup cereal
2 – Oatmeal packets
2 – Snack bars
4 –  fruit cups
2 –  Small bag of chips
2 – Juice box or bag
The personal care kit could include:
1 – Shampoo
1 – Deodorant
1 – Toothpaste
2 – Toothbrushes
1 – Bar soap
We will have a team counting all the items in the CBF Disaster Response Clean Up Buckets and making sure they are ready to send!
Finally, we will have Card Creation Stations to make Easter cards to go with the kits we are creating and to send to our field personnel around the world!