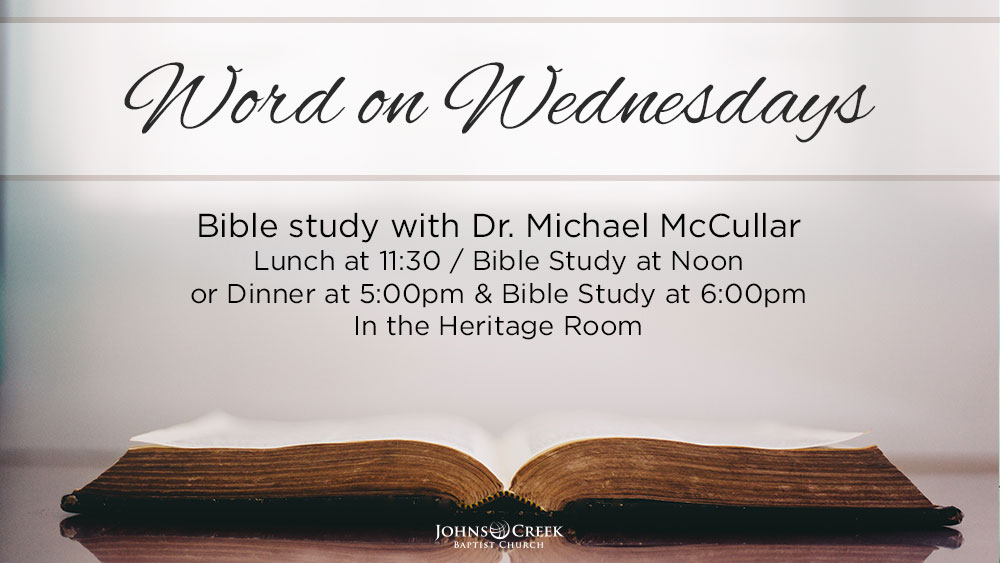 Date
Jan 12 2022
- Mar 23 2022
Expired!
Time
11:30 am
Noon Bible Study
Word on Wednesdays
Noon & Evening Bible Studies
Every Wednesday beginning January 12th
Noon Bible Study at 12:00pm & Evening Bible Study at 6pm – study with Michael McCullar in the Heritage Room
Lunch available from 11:30am and dinner at 5pm.
We invite newcomers to join us for Bible Study and fellowship! For more information, contact formations@jcbc.org.

April Menus
April 6
Roasted Pork Loin, Au Jus
Classic Swedish Meatballs
Mashed Potatoes
Squash Casserole
Bakery Fresh Rolls and Butter
Chef's Desserts
April 13
JCBC Breakfast
Scrambled Eggs
Sausage Links
Hash Browns
Biscuits and Gravy
Pancakes and Syrup
Fresh Fruit
Chef's Desserts
April 20
Angus Hamburger Steak and Gravy
Southern Fried Chicken Tenders
Macaroni and Cheese
Southern Style Green Beans
Creamed Corn
Bakery Fresh Rolls and Butter
Chef's Desserts
April 27
Spaghetti and Meatballs with Marinara
Chicken Piccata
Fresh Broccoli Florets
Garlic Toast
Chef's Desserts