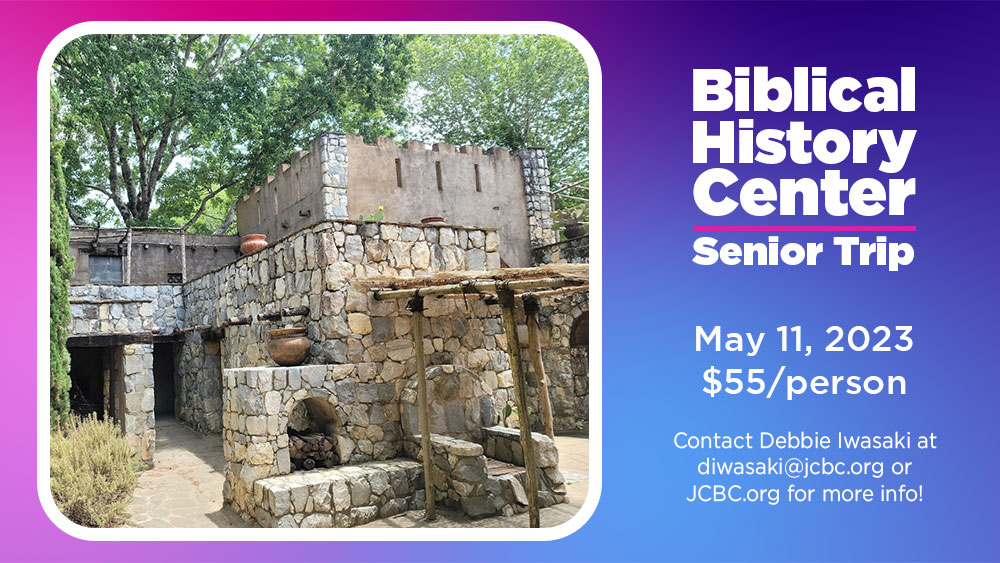 Date
May 11 2023
Expired!
Time
7:00 am - 5:00 pm
Senior Adult Trip
Biblical History Center Senior Trip
Thursday, May 11, 2023
$55/person
Lunch (On Your Own)
The Biblical History Center is a one-of-a-kind museum whose mission is to help people experience the history and culture of the ancient Biblical world. The Center features authentic replicas of ancient Biblical life base on archaeological excavations. The exhibits include such things as goat hair tents, an oasis, tombs, catacombs, 200-year-old olive trees, grape press, olive press, a first century village, a Roman theater and more. The Biblical Life Artifacts Gallery features over 250 artifacts from the Israel Antiquities Authority.
After the Biblical History Center tour, lunch (on your own) will be dished up at the Hog Heaven (think everything BBQ) & Red Rooster Buffet (think a meat and three). We'll all be seated together(ish) and you may order off either menu.
*Deadline for reservation and payment is Friday, May 5th. (We have a maximum of 50 slots available.)
*Cost is $55 per person (includes motor coach transportation, History Center admission, and guided tour.) If paying by check, please make checks payable to Johns Creek Baptist Church.
*Check-in on May 11th begins at 7:00am in the Heritage Room. The bus will depart for LaGrange no later than 8:00 am so please plan accordingly. We should arrive back at JCBC around 5:00pm.
For more information contact Debbie Iwasaki at diwasaki@jcbc.org.