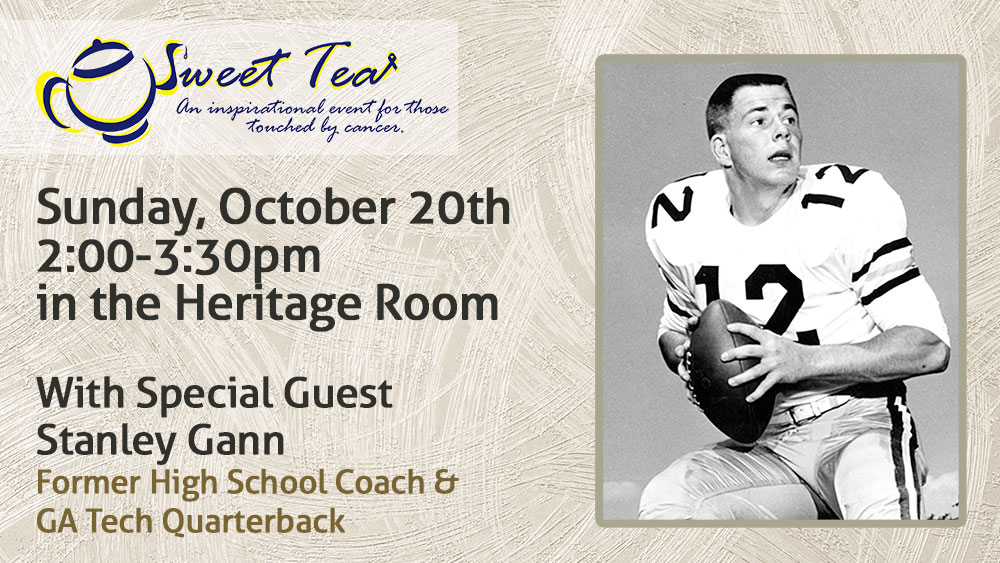 Date
Oct 20 2019
Expired!
Time
2:00 pm - 3:30 pm
Sweet Tea
Sweet Tea
An inspirational event for those touched by cancer.
Sunday, October 20 | 2:00-3:30pm
In the Heritage Room
Despite their 52-year age difference and the singular fact that they never met, there's a fascinating, multifaceted bond between Stan Gann and a teenager who liked calling himself Dylan Reid Faircloth The First.
Both were born in March and both loved football. Indeed, Gann is something of state legend as a high school and college quarterback and then later a high school coach. Faircloth ran cross country for Bainbridge High, where he graduated last spring. Gann, himself, ran distances for years, though he often felt he was literally running for his life; both his father and brother died prematurely from heart disease.
Even their nicknames bear a comical resemblance. Practically since early adolescence Gann's been called "Stan the Man," while Faircloth's own tongue-in-cheek self-creation, which he enjoyed springing on friends, was "the Greatest Man that Ever was Manly."
Last July 9 around 1:30 p.m., while making the two-hour drive by himself from a church camp in Pine Mountain to Bainbridge, Faircloth ran off the road, probably because he fell asleep (he'd barely slept the previous night). His car overturned seven or eight times and several hours after being airlifted to a hospital in Thomasville, he was pronounced dead. Roughly 48 hours later, his 18-year-old heart was beating inside Stan Gann's 70-year-old chest.
"I don't know how long I had left to live," Gann said recently, "but my old heart was shot. I even saw it and it was as big and as hard as a bowling ball. Now I've got the heart of this boy who had his whole life ahead of him and I know I'll be thinking about him every day for the rest of my life."
According to John B. O'Connell, Gann's doctor and Executive Director of St. Joseph Hospital's Heart Failure Program, it's "very unusual" for a heart transplant recipient to know his donor's name, much less his whole life story.
It does happen, however, though it often takes up to a year for establishing contact between a recipient and a donor family. But what followed was one of those unbelievable coincidences involving George Collins, who played for Gann at Warner Robins High in the 1970s. Collins's wife Tina has a distant relative she keeps in touch with named June Faircloth, who is Dylan's mother. When Tina read about Dylan's death in the newspaper, she called June and it didn't take long to put two and two together.
In early September, after several introductory phone calls and only two months after surgery, June drove from Bainbridge to Kathleen, where the Ganns have lived for 30 years. She took along two scrapbooks filled with photos and some of Dylan's writings dating back to the fourth grade, along with a senior yearbook and two DVDs.
"I'm absolutely convinced," June Faircloth said during a phone interview, "had Dylan made a top 10 list of people to get his heart, Stan would be right at the top. With Dylan, age wouldn't have mattered one bit. He would've wanted somebody who'd given as much to students and athletes as Stan."
Stan Gann became a regular in this newspaper's sports section over a half century ago as a quarterback for Wayman Creel's formidable Atlanta Northside High teams of 1956 (state runner-up) and 1957 (state champions). "Creel always wore suits on the sidelines and he was a chain smoker," Gann recalled. "We called him 'Crusher,' because if the game got tense, he'd crush the cigarette out in his hand."
He went from Northside to Georgia Tech where, Bobby Dodd anointed him starting quarterback in 1960. One of Gann's teammates that season was a senior receiver named Taz Anderson, who later played five NFL seasons, including 1966 with the original Atlanta Falcons.
Every week for eight weeks after his transplant Stan and Sissi, married now for 44 years, drove to Atlanta for his post-operative biopsies at St. Joseph. The procedure was always on Monday, so they'd stay over Sunday night at Anderson's Buckhead condo.
Anderson is a gregarious man with large gestures, while Gann is understated and deadpan. Sitting with these two is like landing in a time warp of Atomic Balm-smelling locker rooms, single-bar helmets and one-platoon football.
"Coach Dodd was very conservative," Anderson explains, with a mock-stern face. Gann nods, almost on cue: two old offense guys, moaning and groaning. Clearly they've been down this road before.
"Conservative!" says Gann, feigning outrage. "My gosh, Taz, we had four plays total and we didn't have any pass-action passes worth a crap."
With that, both erupt in laughter.
"You're right about that," said Anderson, who caught a mere 11 passes in 1960. "I don't think coaches back then wanted the ball. I think they wanted the other team to get the ball and then get them backed up in poor field position. They called that playing the percentages. Coach Dodd liked a good 7-6 game. If it got to be 14-6, why, that was getting darn provocative. If it was 21-6, then by gosh you had revolution on your hands."
The two men laughed even harder.
Gann threw an average of only 8.3 passes per game as a full-time starter in 1960 and 1961. But despite Bobby Dodd's offensive penury, Gann said, "I loved him like he was my own father. Maybe he was the only coach in the world who could've done what he did at Georgia Tech. He knew how to get us in school, how to keep us in school and we had pretty darn good teams."
"Coach Dodd's secret," Taz Anderson said with a straight face, "was good tutors and plenty of 'em."
After a stint in the Army, Gann worked one year at IBM deciding, however, "I was making too much money so I went into coaching." He spent 18 years as an assistant high school coach, the last 16 of those at powerful Warner Robbins High, including national championship seasons of 1976 and 1981. He finally became a head coach in 1986, going to arch rival Northside Warner Robins, just 2.4 miles away, and for years after he was known around his old school as "Benedict Gann."
Gann went 55-37 in eight seasons at Northside, but in 1991 had his first heart attack, "a humdinger," he said. "I had triple bypass that time." He retired two years later at age 53 after being warned by his doctor that too many more Friday nights on the sidelines would kill him.
He's now had four heart attacks total, he's had four stents implanted, also a pacemaker, which was replaced two years later by a combination pacemaker/defibrillator. He's also had two ablations to stabilize a rapid heart rhythm.
"It finally got to the point," said O'Connell, "where Coach needed to take intravenous medication just to keep pumping blood from his heart. Coach gradually lost the ability to do exercise, then it became progressively harder for him to do even normal activities, like showering or dressing without a shortness of breath."
By June, Gann was classified as 1B by the United Network for Organ Sharing, meaning though he was technically "non-critical," he was given, as O'Connell said, "the second highest priority" for a heart transplant. By early July he became UNOS Class 1A, meaning top priority, or as Anderson said, "The ankles are taped and you're ready to go into the game."
Three days after becoming 1A, on July 10 at 11:30 p.m. and 34 hours after the accident near Bainbridge, St. Joseph called to say it had a strong possibility for a heart. The Ganns threw a few clothes in the suitcase and arrived in Atlanta around 2 a.m. At 10 a.m. they wheeled Stan into surgery and he heard one doctor say, "Okay, let's crack Coach open." Dylan's heart arrived from Thomasville at noon and three hours later, the transplant was pronounced a success.
Weeks later when all of them finally met face to face in Kathleen, Stan and Sissi were practically in awe as June Faircloth detailed Dylan's sprawling intellectual appetites. His primary interests included playing sports, writing songs and poetry, playing electric bass and a precocious, eclectic taste in literature ranging from Herman Hesse to Kurt Vonnegut to Truman Capote to Carson McCullers. He'd been accepted to Georgia State where he planned to major in psychology and eventually study schizophrenia. Most remarkable for the Ganns, however, was how Dylan became a donor to begin with.
"Seventeen years ago, when Dylan was one, we lost his daddy, my husband, in a car wreck," June said. "I've lived with that all these years, that he died and none of his organs were donated. Sometimes I've even been haunted by wondering how many lives we could've saved."
Though it was his mother's idea to become a donor, Dylan became devoted to the idea, researching it thoroughly. After getting his driver's license at age 16, he told his cross country coach, "This now means Dylan Reid Faircloth The First will continue to live on."
He never knew how profoundly true those words proved. Although heart transplant surgery was perfected in the early 1980s, it's still relatively rare. Part of this is a collective national reluctance to become organ donors, but in recent years there's also been a decline in traffic fatalities, which provide most donors. Dr. O' Connell said that there are roughly 2000 useable donor hearts available annually in the United States, and only "approximately 30 to 40 heart transplants in Georgia every year." The median length of survival, regardless of age, is 15 years.
Dylan Faircloth had more than just a lot of heart. One of his lungs went to a 33-year-old man in Florida. Both kidneys stayed in Georgia, one to a 39-year-old single mother with three children and another to a 38-year-old mother with two kids. His liver went to a welder/mechanic in Georgia and eventually his eyes will be donated too.
"I hope I can meet all of them or at least talk to all of them," June Faircloth said. "It's important they know that Dylan was a wonderful young man and, Lord, I miss him beyond words. Meeting Stan first, that was a powerful experience, because he has the heart, you know what I mean? He has my boy's heart."