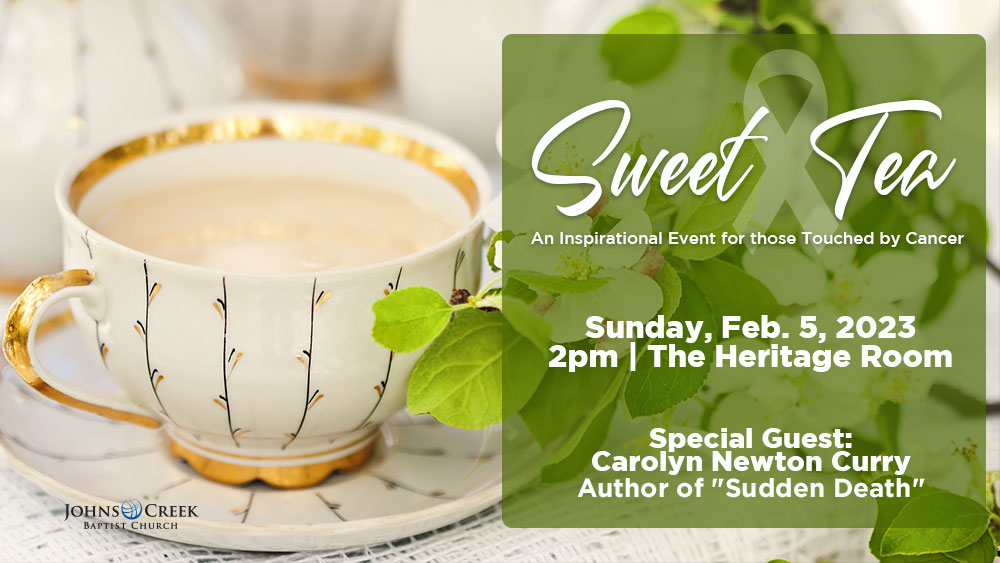 Date
Feb 05 2023
Expired!
Time
2:00 pm - 3:30 pm
Sweet Tea
Sweet Tea
An inspirational event for those touched by cancer.
Special Guest: Carolyn Newton Curry
Author of "Sudden Death"
Sunday, February 5 | 2:00pm
In the Heritage Room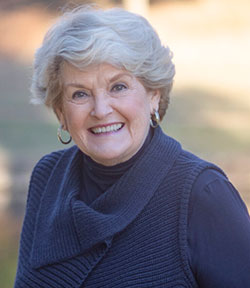 Sweet Tea is a ministry of Johns Creek Baptist Church and our mission is to serve the spiritual, social and inspirational needs of those who have been affected by cancer including: current patients, survivors, caregivers, friends and family. Sweet Tea gatherings provide an atmosphere of hope and healing in a welcoming setting that allows the love of Christ to be shared. Sweet Tea is open to men and women of all ages from our congregation as well as our local community.
Sweet Tea is excited to be back in person on Sunday, February 5th at 2pm in the Heritage Room for our Sweet Tea Tailgate! Bring a friend and join us for afternoon tea and light bites as we hear from Carolyn Curry, award-winning author and historian. She will be introduced by her husband, legendary football player and coach, Bill Curry.
Reservations appreciated, but not required. RSVP to sweetteaministry@gmail.com.
Learn More About Carolyn Newton Curry and "Sudden Death":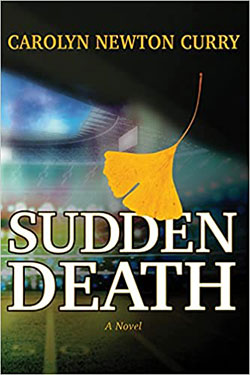 SUDDEN DEATH is a murder mystery set in the world of football. More than a whodunit, the novel spans roughly thirty years from 1966 to 1997 in the life of one couple, who grew up half the world apart. Kendall Harris, a brilliant law student from Georgia, and Duke Astin, a star quarterback from Hawaii, meet at UCLA, fall in love, and marry soon after graduation. Kendall practices law and Duke plays for a decade in the NFL, then becomes a college coach. Juggling two careers and moving from state to state puts pressure on their relationship. But through the joys and stresses of life, they stay loyal to one another.
Things take a troubling turn when Coach Astin is hired by a football powerhouse in the South. Immediately, an influential group unhappy Duke was hired begins to undermine everything he tries to accomplish. The coach and his wife both receive death threats as they work to keep focus on their careers and activities in the community. But when the murder occurs, the story becomes a search for joy and goodness in life—and ultimately the triumph of the human spirit over unspeakable odds.
Written by a woman who has spent her entire life married to a football player and coach, Sudden Death also explores serious themes of sports gambling, alcoholism, and spousal abuse within the varied cast of characters.
"I write about more than simply football," says Curry. "And, even though I do have a lot of life experiences being the wife of a football player who went from pro football into coaching, I want everyone to know that this book is a work of fiction. As a historian, I have always been drawn to strong women who overcome great difficulty, so it was only natural that I created fictional females with similar characteristics. Ultimately, this novel tells the stories of brave men and women who try to do the right thing and make a difference in this world
Carolyn Newton Curry is an award-winning author, historian, and founder of the nonprofit Women Alone Together®. She is the author of Suffer and Grow Strong: The Life of Ella Gertrude Clanton Thomas 1834–1907 which won Curry a Georgia Author of the Year Award from the Georgia Writers Association. The biography was named One of the Books All Georgians Should Read by the Georgia Center for the Book. Learn more about her at www.carolyncurry.com