The table is set.
Our Connection, Formation, and Mobilization Ministries– while always evolving and improving – are humming along.  Our Worship Ministry has expanded to include both Blended/Traditional and Contemporary worship opportunities – each excellent in their own way.   Greeters are greeting.  Teachers are teaching.  Singers are singing.  Servants are serving.  Leaders are leading.  Communities are communing.
Yes, the table is set.  So, now what?
JCBC…it's time to Go and Tell.  More directly…it's time for EVERY ONE OF US TO GO AND TELL.  Even more directly…it's time for YOU to go and tell.  It is up to us to tell others that JCBC is a place where they can connect, form, mobilize, and share in a life of authentic worship in their choice of venues. It is time for us to tell others that JCBC is a place where they can Be Known, Become, and Belong.
Welcome to the [BE] campaign!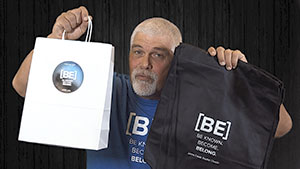 For the next three Sundays (3rd, 10th, and 17th), we will be equipping every adult in this church and every student in our youth ministry with materials to help you invite your friends, family, neighbors and co-workers to church. [BE] Bags, with materials inside, can be picked up either just outside the Sanctuary or just outside the Family Life Center.  There will be folks at the stations to assist.  Here's a peek inside the bag…
The BE T-Shirt – [BE] seen out and about. Become a walking billboard!
The BE Car Magnet – Make your invitation to join us at JCBC constant and mobile!
The BE Postcard — This is your "personal direct mailer." Write a quick note, and mail it!
The BE Invitation Cards – The most effective invitation strategies of all time are when one person says to another person, "Come with me. Come and see." These invitation cards are for you to use when inviting people you know to your church. Arrange a time to accompany them or meet them.
The BE Business Cards – To be spread far and wide! They are best used as a giveaway after doing something really nice and really unexpected for someone else.
The BE Social Media Tools –Go to JCBC.org/be. There you will find images, suggested captions, and hashtags designed to enable you to spread the word to your social media friends and followers. Tap in to your social networks.
Look, I know that this is simply a bag with a sticker and a magnet and a t-shirt and some cards and some words.  It may not seem like that big a deal.  But remember this… it was also just water that became wine.  It was just a stick and a rock.  It was just a stone and a sling.  It was just some bread and a few fish.  It was just dirt and some spit.
Never, ever underestimate what God can do with common, simple things.  Never, ever underestimate what can happen when one person says to another – a friend, a neighbor, a co-worker – come with me.  Come and see.
Hey Johns Creek…it's time for all of us to get busy.  It's time to [BE].
David White
Connections Pastor
Johns Creek Baptist Church