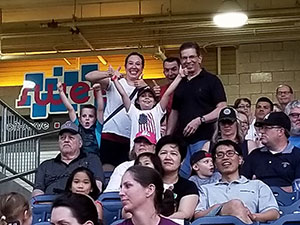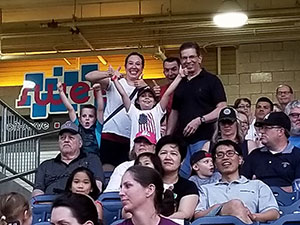 I know the final score but, truthfully, I didn't watch much of the game.  Oh, I'd check in on the action from time to time when the crowd got excited over something happening on the field.  Mostly, though, I watched and enjoyed the people.  Our people.  Us.
I'm grateful for us.
I watched as people visited with each other – in the stadium and in the tailgate areas of the parking lot – during our lovely pre-game fellowship time (some people call it a rain delay).   It's heartwarming watching people enjoy each other.  Chatting.  Laughing.   Weather predicting.
I'm also grateful for the lives…the stories…of each person that comes together to make "us".
I mean, of course, Findley Ballance knocked the National Anthem out of the park (pun very much intended) but I couldn't help but think about how each week she helps lead worship for people of all ages.
Bill Hamilton's first pitch was a near perfect strike.  It was super fun seeing him out there.  It made me joyful to watch his friends cheering him on – deep and abiding friendships forged over time.  As he walked off the field, however, I couldn't help but think about how on any given Sunday he can be found teaching and leading our students and how he and Lisa and Abby serve in so many ways.
Tom Allen worked hard to find some partners to join him as the "Play Ball" kid.  He recruited 6 year old Parker Huett who delighted in being on the Jumbo-Tron to help signal the start of the game.  I love that our Pastor, Shaun, took the time to celebrate Parker's newly found celebrity by asking him for his autograph.  Classic.  Ten year old Anna Tarpley – dimpled and adorable – pitched in as well.  As I saw her on the big screen, I couldn't help but remember how she saves her coins all year long so that she can contribute it all to the missions offering at VBS.  She's done it for years.  Remarkable.  Tom, Parker and Anna.  Together.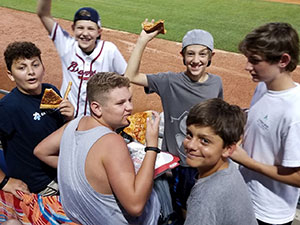 A gaggle of our students combined for some on-field hijinks.  I've watched most of them grow.  I looked at them and saw athletes and musicians, academics and comedians, introverts and extroverts – enjoying each other and the moment.  I remembered so many times I've enjoyed with them and their families through the years.  It takes courage and conviction to navigate tough, teenage waters like they do.  I'm grateful that they have the power of "us" behind them.
Chris Kolls and LaRee Holloway colluded and "ran" a non-race.  They strolled.  Watching them, however, I couldn't help but think about their stories.  They are women of faith and uncommon courage.
The legendary "Back Row Bases" were in usual form – except for moving to the front row!  Wherever they go, it seems, a party breaks out.  Or perhaps more accurately…mayhem.   They are so much more than choir members. They lead and serve in countless ways.  I watched them create bedlam during the "Scream for a Pizza" contest to make sure the kids around them won it.  I watched Tres Rice garner as much attention as he possibly could during the t-shirt tosses so that he could grab one and give it to one of the kid's in his children's choir.  Love it.
My colleagues were there.  Lauren, Rhonda, Leigh Anne, Angela, Stephanie, Glenn, Adam, Nathaniel, Kep, Winston, Richard, Shaun.  They stepped out to simply be among those they serve for the fun of it but I know what they are up to today…and everyday.
The Haywood Community.  Wow.  They waited through the longest inning in baseball history (it felt like) to take the field and lead the singing of Take Me Out To The Ballgame during the 7th inning stretch.  It was fun to see them there on the field, but I couldn't help but think about the way they care for each other – and the rest of us – so beautifully and faithfully.  I missed Herb.
In every seat of the JCBC sections of Coolray field were people of faith with stories that matter.
In. Every. Single. Seat.
I'm grateful for us…and to have had another chance to be together just because.
David White
Connections Pastor