I hope you have made plans to attend our Relationships Conference, on February 22 and 23.
It promises to be one of great personal discovery and growth.
As we near the conference, you will hear me talking more about a word that may be new to many of you. It is the "Enneagram."
Pronounced: any-uh-gram, the enneagram comes from two Greek words ἐννέα (ennéa, meaning "nine") and γράμμα (grámma, meaning something "written" or "drawn"). It is a nine-point drawing that represents the nine basic personality types we embody as human beings.
While all of us have some trace of all nine types within us, each of us typically embodies one dominant "ennea-type," which comes with a variety of very predictable dynamics. Those dynamics (sometimes hidden just beneath the surface of our own awareness) can have a very powerful impact on how we understand and engage the world around us.
For me, the Enneagram has become a remarkable resource for my spiritual walk with Christ.
The very nature of the Enneagram is to empower individuals to recognize their own shadow-side, or false-self.  When the distinct patterns of a person's enneagram number are learned, and the self-destructive patterns of the false-self become familiar, it makes it possible to better accomplish what the Apostle Paul compels all followers of Christ to do always, which is to "crucify the flesh with its passions and desires."(Galatians 5:24)
When we learn to recognize the false-self, it empowers our true-self to be raised up in us daily.
And what is the true-self? It is "Christ in you, the hope of glory." (Colossians 1:27)
When we discover ways to remain aware of the Christ who wants to rise up within us daily, we experience a total transformation in the way we live in the world. It changes how we view and do our lives. We see God, ourselves, and others around us with completely new eyes.
This is why I want you to join us for this very special event.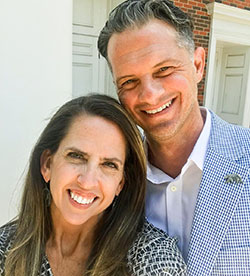 Our guest facilitators for the conference are Jon and Wendi Singletary.
Both Jon and Wendi are educators. Wendi is a public school teacher in Waco, Texas, and Jon is the Dean of the School of Social Work at Baylor University.
Jon and Wendi are dear friends to me and to Laura. We attended seminary together in Richmond, Virginia. Both are certified instructors in the Enneagram. I have the utmost love, respect, and trust for them both, and am eager to share their wisdom and insight with you.
As we near the conference, those who register will be given access to helpful resources in preparation.
So, don't delay. Register today!
Have I told you lately how much I love being your pastor?
Well, I do.
Dr. Shaun King
Senior Pastor
Johns Creek Baptist Church