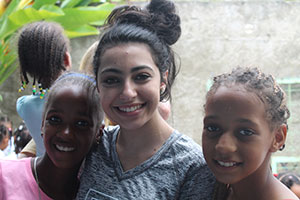 If you haven't heard, our students recently returned from our annual Spring Break Mission Trip to the Dominican Republic. Each year students from JCBC give up their spring break to go on mission and serve in the DR, leading VBS, teaching English in local schools, and completing construction projects in the community. This year we served at The Good Shepherd Church in Villa Altagracia, about an hour northwest of Santo Domingo. It was our largest group in over five years, as we brought 35 students and adults to go and be the Lord's hands and feet. Just as we go every year, we went on mission not to bring God to the Dominican Republic, but to experience true Christian community with our Dominican brothers and sisters. It was an incredible week, but my words cannot describe what God did in the lives of our students so I thought it would only be fitting for you to hear, in their own words, of what God did this week.
"This team showed Jesus so beautifully and wonderfully this week and I am incredibly proud to be able to serve with them. I am excited to see where God leads all of them and how He plans to use their leadership. I saw love being shown to our brothers and sisters in remarkable ways, but they touched our hearts more than we touched theirs. I was shown Christ in so many different ways this week from our family in the DR. These children love like they have everything in the world, and they do. They are "rich in spirit." I have loved spending my last 3 spring breaks serving our friends in Villa Altagracia and was blessed enough to be a part of this team this year."
-Abby Hammonds, Senior
"AB (Anna Brook Hydrick) said it best when she thanked the Dominicans for "loving us so well." Truer words have never been spoken. This love, shown through two braids coming from the hands of eight kids, shown through more chalk covered bodies than sidewalks, shown through cheek kisses and bright smiles and homemade handshakes, is the realest best love I have ever felt. God really blessed me with something big when He let me spend a week with the purest hearts and biggest smiles I have ever seen."
-Katie Williams, Freshman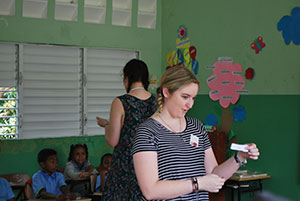 "During our devotional time in the Dominican Republic, we studied Proverbs 27, 'Iron sharpens iron.' Kep said that one piece of iron cannot solely sharpen another piece of iron without becoming sharp itself. Each piece rubs off on the other so that both of them would sharpen together. Faith works similarly because as you affect someone's life they, in turn, affect your life. The children and people that I have met in my time in the Dominican Republic have led me closer to God, and I am so grateful for that. They help me understand that the materialistic things that I have do not amount to the faith that I have. They have taught me that my outlook on life can greatly improve if I focus on my faith rather than what I have. Juan Carlos, one of our translators on the trip, would spend most nights up late with the guys, talking to us, and he said 'I could pay attention to what I do not have and be sad, but I pay attention to my faith and instead I'm happy.'"
-Tommy Boland, Junior
"This past week has been the absolute best week of my life. I just can't get over how it changed me, my view of God, and my walk of faith! Lots of people asked if I would go back again next year, and of course I said yes! They say how amazing it is that I would give up my spring break to do so, but the truth is, I couldn't imagine spending my time anywhere else doing anything else! This week has changed my view of life for the better, in every way, and I never want to go back to the way I used to see life. We not only brought our salt from the Lord to the Dominican, but we also experienced what the Lord is already doing there. Although the small community had so little, they had Jesus in their hearts like I have never seen before. It was a true blessing to be granted the opportunity to participate in the trip, and I hope I can only continue what I have only started."
-Natalie Jones, Freshman
"YA CRISTO VIENE!!! That phrase was plastered all over the communities we passed on our way from the Dominican airport to where we served, in Villa Altagracia. The phrase literally translates to 'and Christ comes,' but the way I interpreted it is, 'Christ is returning." However the phrase translates, I don't know for sure, but I do know that every single place that I saw that sign is a place where Jesus lives. And for that let's rejoice! If Jesus lives in one of the poorest areas in the Dominican Republic, why can He not live in you and through you? He CAN and He WILL if you let Him! We witnessed the kids rattle off and describe characters of the Bible that we couldn't even describe ourselves. God clearly knows what He is doing in this community and He knows what He's doing in your life (even if you don't know it yourself). This beautiful church welcomed us with open arms. Thank you, Good Shepherd Church, a million times for showing us the love we hopefully showed you."
-Sidney Chason, Senior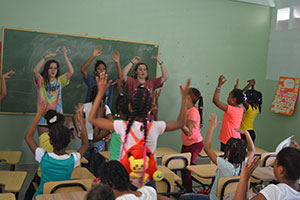 "The Dominicans are filled with joy no matter what place they are in. Being there, you learn that on day one. You see how everyone treats each other the way God wants us to treat our brothers and sisters. They accepted us and loved us just as if we were their own children. I've gone on this trip as a student and loved every minute of being with my youth group and the people that have touched our hearts. Being a chaperone this time was quite a different experience because instead of jumping right in, I got to stand back and watch others go and share God's love. I watched them smile even when they had no idea what the kids were saying, and to me that is one of the best things I received from this trip. I've been able to watch the growth of these youth and watch the joy they've encountered and I hope they use some of the joy the Dominican's have given them to spread it here."
-Nathaniel Owens, College Chaperone
It is these stories, and so many others like them, that make all the effort worth the while. Thank you for all that you do as a church, as a body, and as a family to make this trip, and so many like it, a possibility. You are not only changing the world when you empower us to mobilize for mission, but you are changing the lives of our young people each and every day.
Kep Pate
Youth Pastor
Johns Creek Baptist Church
Youth Participants:
Grace Bland
Tommy Boland
Eliza Brown
Brandon Bryant
Emma Bryant
Mikayla Carman
Sidney Chason
Rachel Fike
Vikki Germano
Zack Gilbert
Morgan Giles
Abby Hammonds
Katy Harvey
Anna Brook Hydrick
Morgan Johnson
Natalie Jones
Dara Karadsheh
Alyssa Kolls
Meredith Lee
Ian Ortloff
Piper Owens
Cameron Smith
Lucy Tibbetts
Michael Tripp
Landry Weaver
Katie Williams
Crawford Yule
Adult Participants:
Colin Bryant
Jakki Bryant
Ginny Carmen
Paul Fike
Steve Lee
Nathaniel Owens
Kep Pate
Susan Tripp