One of the great moments of 2018 was the celebration of Glenn Crosthwait's 20th anniversary at Johns Creek Baptist.  On that day, we gave thanks to God for the extraordinary gift Glenn is to our church family.
In honor of that celebration, a project has been underway to organize and publish a book of devotions written by Glenn over the course of these twenty years. Carole Smith and Glen Sloan have worked tirelessly to produce the book, which is now available for sale.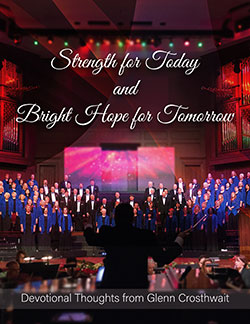 The title is Strength for Today and Bright Hope for Tomorrow: Devotional Thoughts from Glenn Crosthwait.
The devotions printed in this book arise from the week-to-week choir rehearsals that occur on Wednesday nights. Each week, Glenn leads our choir in a time of worship and reflection, as they prepare not only their voices, but their hearts and minds to lead the rest of us in worship on Sundays. Glenn's spiritual maturity and leadership are exceptional, and it shows in these writings! I am extremely grateful to have Glenn's reflections in print now, so that the rest of us may also benefit from his experiences and insights.
The book is on sale for $15.00, and will be available beginning this Sunday, November 25th at church. You may pick up a copy outside either of our worship venues, or at our main reception desk.
Please note:
100% of the proceeds from all sales will be going to JCBC's clean water projects.
I hope you will purchase one (or many) of these books!
It will bless your soul, make a terrific Christmas gift, and support a great cause, all at once!
Have I told you lately how much I love being your pastor?
Well, I do.
Rev. Dr. Shaun King
Senior Pastor
Johns Creek Baptist Church