I'm swept away by what a great week VBS was!
And as much as I love a good pun, there really was a current of love and joy flowing around our church last week. The children who walked through our doors were truly welcomed with open arms, easily finding adventure, acceptance, joy, peace, and rest among our JCBC Family.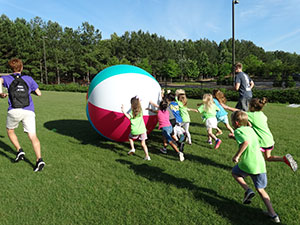 From last Sunday morning during Sunday School to Wednesday at 8:00pm, we had close to 400 kids "Experience the Ride of a Lifetime with God" at our Rolling River Rampage! These campers were full of energy and love. They made connections with new and old friends, gave out lots of hugs, and most importantly learned what it meant to follow Jesus on an adventure of a lifetime!
These kids also raised $1851 for Freedom Lamps and Mosquito Traps, brought supplies for and put together 400 hygiene kits for Norcross Cooperative Ministry, and made bookmarks and encouraging cards to go in the kits. They were ready to show God's love to others, and we are so thankful!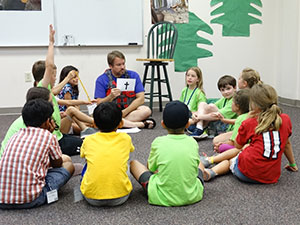 I am thankful for the 200 volunteers who gave their time, energy, and love to this event. As much as I planned, I absolutely could not have made it all happen without each and every person who showed up to make snacks, lead kids, tell Bible stories, organize crafts, lead games, make copies, register campers, welcome kids and volunteers, teach missions, take pictures, record video, and put on a celebration that really was Christ centered and worship filled. Thank you, also, to the Sunday School Communities who gave snack and missions donations. Your support means so much to me!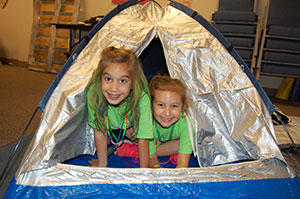 I want to give an extra "thank you!" to our Children's Ministry Assistant, Lauren Dunn, for her excellent organization and above-and-beyond attitude during both the planning and execution of VBS. We both would have been at a loss without the support and work of Molly McNeese and the rest of our director team, which consisted of: Ginny Short, Sarah Roberts, Mary Lynn Huett, Sarah Beth Loudermilk, Karley Brown, Molly Fike, Jessica Bekkerus, Sunni Lazo, Shelly Tolbert, Kim Lawing, Jennifer Collins, Matt Janofsky, Findley Ballance, Nathaniel Ballance, Kep Pate, Melissa Keel, and Paige Vanzyl. We appreciate everything you did and gave to make this VBS a success!
My favorite thing about VBS is that this focus of love and joy doesn't start or end with VBS. Walk through our Children's Hall on any given Sunday and you can feel the energy that comes only with people who are filled with the Holy Spirit and focused on spreading the grace of Christ. I know our kids feel it, and I hope you do to! I am incredibly thankful to be part of this church and ministry.
Thanks be to God!
Annie Sutton
Children's Pastor
Johns Creek Baptist Church