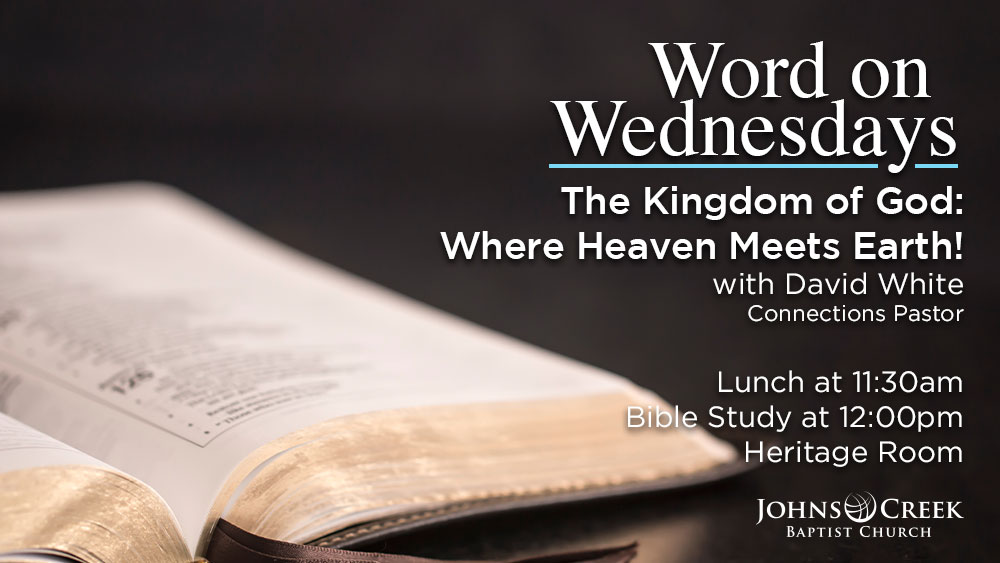 Date
Aug 09 2023
- Sep 27 2023
Expired!
Time
11:30 am - 1:00 pm
Adult Bible Study
Wednesday Noon Adult Bible Study
"The Kingdon of God: Where Heaven Meets Earth!" with
David White, Connections Pastor
11:30 AM – 1 PM
Lunch Available to Purchase
$8/person
We invite newcomers to join us for Bible Study and fellowship! For more information, email formations@jcbc.org.
Our topics will include:
*An Introductory Overview of the Kingdom of God
*The Parables of the Kingdom.
*Kingdom Living in the World.
*The Future Fulfillment of the Kingdom.

September Menus
September 6
Fried Whitefish with Tartar Sauce
Classic Swedish Meatballs
Mashed Potatoes
Broccoli Casserole
Bakery Fresh Rolls and Butter
Chef's Desserts
September 13
Blackened Shrimp
Roast Breast of Chicken Alfredo
Wild Rice Pilaf
Fresh Broccoli Florets
Maple and Basil Baby Carrots
Rolls and Butter
Chef's Desserts
September 20
JCBC Breakfast
Scrambled Eggs
Sausage Links
Hash Browns
Biscuits and Gravy
Pancakes and Syrup
Fresh Fruit
Chef's Desserts
September 27
Angus Hamburger Steak with Gravy
Popcorn Shrimp
Scalloped Potatoes
Spring Vegetable Medley
Chefs Desserts