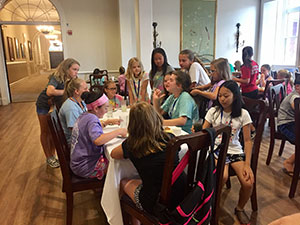 July 11-14 the rising 4th-6th graders of JCBC took a meaningful and exciting trip to PASSPORTkids! Camp. During those 4 days and 3 nights, we stayed at the beautiful and historic Converse College campus in Spartanburg, SC as we learned what it meant for God to be enough and how to live as chosen creations in Christ Jesus.
Every day was packed with activities, energizers, Bible studies, worship and mission experiences. One of the most impactful parts of the week was learning about the Roma people in Eastern Europe. The kids were part of a "night market" where they learned about the Roma culture – what they eat, how they work, etc. – in a hands-on environment. They also learned that people around the world, including the Roma people, don't have access to education and healthcare the way we do. Their minds were expanded and their hearts were opened as they learned about Missionaries and Field Personnel who sacrifice their lives to help those less fortunate.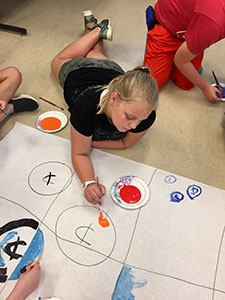 During the week, we studied the verse, "Jesus said to me, 'My grace is enough for you, because power is made perfect in weakness.'" (2 Corinthians 12:9a CEB) We learned Bible stories of God saving people from trouble and teaching them that God is enough to fill their every need. We learned that God provides so much for us, that there is more than enough for us to share with others. This theme made an impact on chaperones and kids alike as we all struggle to find what we are looking for. The reminder that God is enough for us is relevant no matter where you are in life!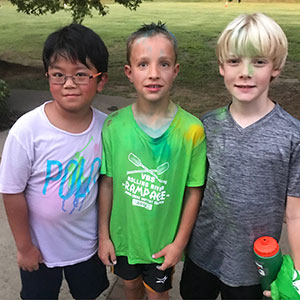 Each night before the boys and girls split up to go our separate dorms we stood in a circle and answered two questions: "What was your favorite part of the day?" and "What did you learn about God today?" As the Children's Pastor, this was by far the most meaningful part of every day for me. Seeing each day through the kids' eyes and hearing what God was teaching them was humbling and inspiring. Below are some of my favorite quotes from that "circle time" with names left-out for the privacy of the children. Thank you for supporting and praying for the spiritual growth of our children as they experience God every day and on trips like these!
"My favorite part of the day was worship. I like singing and worshiping God." -5th grade girl
"My favorite part of the day was the night market and learning about the Roma people and how we can help them." -5th grade boy
"I want us to pray for the Roma people, that they can get a good education and be treated fairly." -4th grade girl
"Today I learned that God is enough for me, and for everyone in the world." -3rd grade girl
Grace and Peace,
Annie Sutton
Children's Pastor
Johns Creek Baptist Church