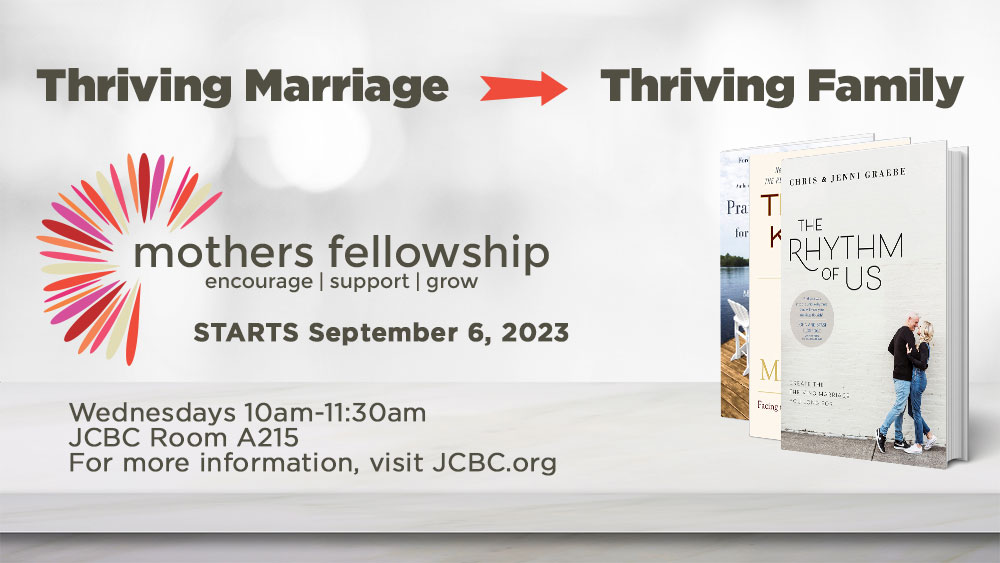 Date
Feb 01 2023

- May 31 2023
Expired!
Mothers Fellowship
Mothers Fellowship Community
Wednesdays 10am – 11:30am in Room A215
Starts Wednesday, September 6th!
Thriving Marriage ➙ Thriving Family
How do we grow and sustain a healthy marriage?
What is the biblical vision and meaning for marriage?
What rhythms can we cultivate to grow and nurture one of our most important relationships?
Join us this Fall 2023 for a study on marriage,"Thriving Marriage ➙ Thriving Family".
It has been said that, "We are the windows through which our children first see the world." If that is true, is the legacy image you are leaving on marital love an invaluable gift to them? When they grow up and enter the world to find spouses will they be looking to emulate your love for each other? That love and how you navigate it has a profound impact on your children. So let's study together how to create and sustain a healthy marriage that leads us closer to each other and to God.
We will be looking at several books to learn from and that encourage healthy conversation. These resources are "The Meaning of Marriage" by Timothy Keller, "The Rhythm of Us" by Christ and Jenni Graeme and "Praying the Scriptures for Your Marriage" by Jodie Berndt. Of course, we learn from study but more importantly, we learn from each other and our shared experiences — "…As iron sharpens iron!"
Moms of all ages and stages are welcome! Grab a friend and join us on Wednesday mornings at 10am. Childcare will be proved with reservation. Questions? Contact Stephanie Wright at swright@jcbc.org.
"A man shall leave his father and mother and be united to his wife, and the two will become one flesh.
This is a profound mystery…" – Ephesians 5:31-32
__________
About the Books
"What marriage is for: It is a way for two spiritual friends to help each other on their journey to become the persons God designed them to be." Timothy Keller, The Meaning of Marriage-Facing the Complexities of Commitment with the Wisdom of God
"The healthiest, happiest marriages share a transformational secret: intentional rhythms. Solid marriages just don't happen. No marriage can thrive or survive when our eyes are consistently focused on ourselves. Practicing a "rhythm of me" does't cut it. To create a thriving marriage, we must center our lives around rhythms that lead us toward God and toward each other. We need a "rhythm of us" in order to move toward a life we long for." Chris & Jenni Graebe, Rhythms of Us-Creating the Thriving Marriage You Long For
"God wants to do good things in our marriages, and the more we dig into the Bible, the more our prayers will line up with his plans. God wants you to partner with him, through your prayers, to release his richest provision." Jodie Berndt, Praying the Scriptures for Your Marriage-Trusting God with Your Most Important Relationship