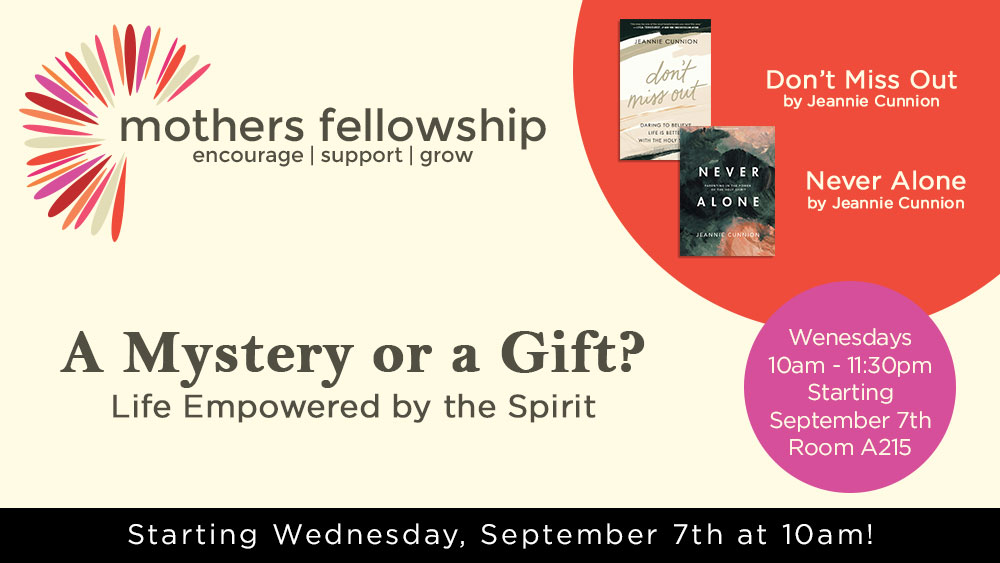 Date
Sep 07 2022
- Nov 16 2022
Ongoing...
Time
10:00 am - 11:30 am
Mothers Fellowship
Mothers Fellowship Community
"A Mystery or a Gift? Life Empowered by the Spirit"
Wednesdays 10am – 11:30am in Room A215
Starts Wednesday, September 7th!
This fall we will dive into what life looks like empowered by the Holy Spirit. Who is He? What does He do? Why does it matter? These questions are peppered throughout conversations about the mystery of the Holy Spirit–the advocate, the helper, the counselor and the friend — who lives within each believer.
Author Jeannie Cunnion writes, "The extent to which we are willing to engage with the Spirit of God is the extent to which we will encounter the fullness of God." This fall our study will be based on two of her latest books, "Don't Miss Out – Daring to Believe That Life is Better With the Holy Spirit" and "Never Alone – Parenting in the Power of the Holy Spirit." These books invite us to experience the essential work of the Holy Spirit in our every day lives.
Moms of all ages and stages of parenting are welcome. Grab a friend and join us on Wednesday mornings. For more information, contact Stephanie Wright at swright@jcbc.org. Childcare is available with a reservation.