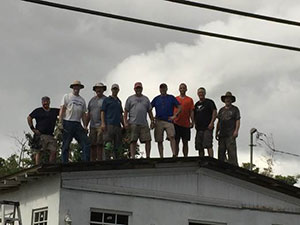 The hurricane named Maria ravaged Puerto Rico on September 20, 2017. With sustained winds of 155+ miles per hour the nation's power grid literally folded up and blew away leaving the entire island in the dark. Darkness was not the only problem, without power the island schools, hospitals, banks, gas stations, stores and emergency services also closed. This led to people going days without food, access to funds and medicine, which led to large-scale hysteria. Suicides reached historic numbers and sadly this was only the beginning. By the turn of the year, there were 60,000 houses without roofs and only half the population had regained power. Today, nine months after the storm, 25% of the country remains without power, schools are operating part-time and roof tarps paint neighborhoods F.E.M.A. blue. Puerto Rico remains a mess.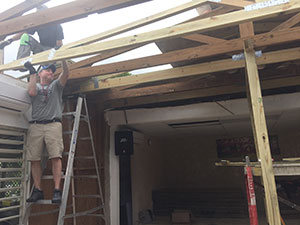 JCBC was able to step up after a new partnership was formed with a Baptist pastor who lives outside San Juan. A scout team traveled to Puerto Rico in February and out of that trip a plan was hatched for our church to become involved in several ways. We were asked to create a team of people who were skilled at roof construction. Since I missed that class in seminary I thought it best to take a very much behind-the-scenes role and hope for the best. As God so often does, he provided a team of men who are quite skilled at roof work; four of the men had not been on any of our past labor-intensive missional trips. In short, these guys were good. JCBC roofed a Pentecostal church that has never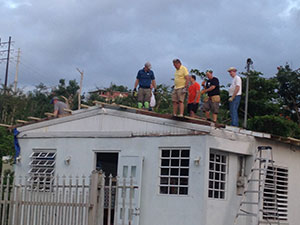 qualified for insurance or F.E.M.A. assistance. Pastor Ruth had prayed for nine months for a solution and we showed up. No way to see this as anything other than a God-thing.
We have been invited back and with no less than twelve blue tarps on houses near Pastor Ruth's church, we will return. It's what we do as JCBC 'cause we respond to God-things. That's our new motto and it will look absolutely fabulous on a t-shirt for our next trip set for October 18-22.
Dr. Michael McCullar
Formations Pastor
Johns Creek Baptist Church