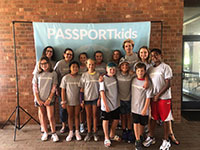 Last week, I took 10 amazing 4th and 5th graders to Converse College for Passportkids! 2019! We had a great time learning about God and stepping out of our comfort zones. They were immersed in learning about Refuge & Hope in Uganda and finding a way that they could be part of God's healing mission to the people there. Watching these kids grow in their faith at camp is one of the many blessings in my job.
The theme this year was how to Fear Less and Love More with the power of Christ. Our kids found tangible ways to Stay Awake, Stand Firm, Be Brave, and Love Others. All 10 kids memorized the Bible verses every day, and we celebrated with an Ice Cream Party on the way home! I am so proud of how JCBC Kids stepped up to learn these verse and apply each days theme to their lives!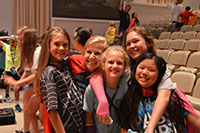 As fun as this trip and everything we've done this summer has been, we are all looking forward to getting Back 2 School and Back 2 Church this August! August 4th is our Promotion Sunday and Big Breakfast, which is the start of our new term in our Adult Sunday School Communities. We will also be back to our Wednesday noon lunch and evening Bible Studies. We can't wait to see everyone back in the routine of church! We are also looking forward to giving our rising 1st graders new Bibles in worship on August 11th! We hope to see you all Back to School and Back to Church in the next few weeks!
Rev. Annie Westbrook
Children's Pastor
Johns Creek Baptist Church