You are marked, you know.
Soul-marked…by the love of God.
But that can be so hard to remember; given all the other marks we bear.
Marks of our own making. Marks of our unmaking.
Sin, brokenness, folly, regret.
They all, in their own ways, leave marks.
And with blemished hearts and smudged souls, we can forget who marked us first.
And perhaps the most sinister of all marks are the ones without fingerprints.
Tarnishes left with no one to blame.
Disease, trauma, depression, loss.
They too, smear our sensibilities and blur our perspectives.
What we need is a new mark.
Or perhaps an old one, re-traced.
Is it any wonder why the mark we make on Ash Wednesday is in the shape of a cross? It's that mark, smudged upon head or hand, which clarifies and declares.
It reminds us who we are, whose we are, and where this whole journey is headed.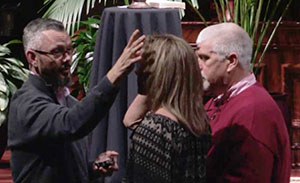 For many in the Baptist family, observing Ash Wednesday is a relatively new experience. As more and more Baptist congregations embrace the rhythms and seasons of the Liturgical calendar, there is a growing appreciation and practice of ancient disciplines and traditions that have enriched the Christian journey of millions, for centuries.
As early as the 4th Century, Christians began to anticipate the celebration of Easter with greater focus and readiness. The holy day of Our Lord's resurrection seemed far too glorious a mystery to simply stumble into it.  So followers of Jesus chose to deliberately enter into the season with a call to contemplation and confession and renewal. The season of Lent, as it is known, begins 46 days prior to Easter, providing the disciple 40 days of prayer and fasting, with breaks on each of the 6 Sundays. (The Lord's day was considered too much of a celebration to fast, so they took breaks.) By the 9th and 10th centuries, as the practice and observance of Lent became more widespread, congregations would formalize the beginning of the season with a special service known as Ash Wednesday.  In that service, the liturgy would focus on reminding Christians of our humanness, our mortality, our sin, and our great need for salvation. With that kind of focused attention, the believer would move deliberately to Easter with an ever-increasing hope and anticipation of Resurrection.
Tonight, the Johns Creek Baptist family will gather for our observance special meaningful service of worship and transformation.
Here is what you can expect:
5:45 p.m. Pre worship music and scripture meditation begins.
As you enter (silently) into the sanctuary, you are invited to allow the reflective music of the Violin to call you to rest. During these 15 minutes of quiet worship allow your soul to catch up with your body, and become fully present for worship. Scripture passages (projected on our screens) will invite you into contemplation as you prepare for worship.
6:00 p.m. Service begins.
The scriptural call to worship will be a call for the mercies of God to meet us in our broken and vulnerable places. The congregational singing will be an opportunity to give voice to our need and celebrate the hope we have in God's tender graces.
I will offer a brief message calling us to consider the beauty God can make with our brokenness.
Adam Courtney and Glenn Sloan will bless us in song, with "Beauty for Ashes."
Worshippers will have the opportunity to reflect and write down a confession or sin or struggle that has them burdened, before receiving the "imposition of ashes." These ashes are created by burning the palm branches used last year on Palm Sunday. These ashes represent the full span of our human journey. From praise to brokenness back to praise, we acknowledge our common struggle and our shared desire to be made whole by Christ.
We will hear the glorious reminder that, by God's grace, we are pardoned of our sins, and raised to walk in newness of life.
Finally, we will depart the sanctuary in sacred silence, fully empowered to begin our Lenten journey.
I am eager to be with you tonight as we worship our Lord together.
So, come.
Come and be reminded.
Come and be Soul-marked…by the love of God.
Have I told you lately how much I love being your pastor?
Well, I do.
Shaun
Dr. Shaun King
Senior Pastor
Johns Creek Baptist Church