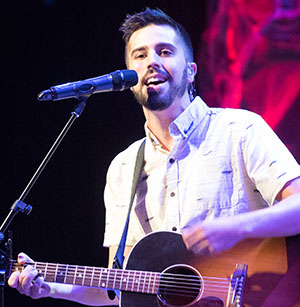 Hi, JCBC family! This is my first blog in "The Call" and I'm so excited to have the opportunity to write to you.  Before I get started, I just want to say "thank you."  In our first year of ministry, Meredith, Owen, and I have felt so loved and supported.  We truly feel like we have found a church family, and we are so grateful for all of you.  I can't wait to see what the future holds and I know God has big things in store.
Today, I want to tell you about our Night of Worship that will be next Thursday night, August 30th at 7PM.  The theme of the night is "unplugged."  Here's why: Summer is over, school is back, and schedules are hectic!  If we aren't careful, it's easy to forget to create margin to take care of ourselves and to spend time with our Heavenly Father.
That's why next Thursday night; we are going to take some intentional time to do just that.  We'll be spending time in worship singing songs, being silent, reading scripture, and praying together.
To go along with our "unplugged" theme, our music will be more quiet and intimate than a typical Sunday morning.  If you haven't been to a Night of Worship in the past because you thought it would be too loud (or maybe it's just not your style), this night will be perfect for you to attend.  On the flip side, if you love the music on a typical Sunday morning, this night will be a nice change of pace.
The point is, I hope that all of you will consider coming together with family, friends, and neighbors for what will be a very special night to worship our Creator and to remember just how loved we are by Him.
See you on the 30th at 7PM!
Adam Courtney
Contemporary Worship Leader
Johns Creek Baptist Church